Grocery Shopping With Ikan

By
.(JavaScript must be enabled to view this email address)
July 02, 2008
|
Share

Del.icio.us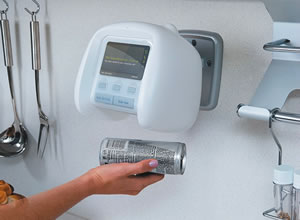 One thing I don't see here in Hawaii is grocery delivery service or any online shopping options. It's common on the Mainland, but apparently not very popular here. I remember a couple of companies tried to launch something a few years ago
but were unsuccessful. That is really too bad, since I think it would be extremely beneficial to those who are disabled and find it difficult to go out grocery shopping or simply to those of us who are busy or lazy and don't want to leave the house.
With that in mind, I stumbled across a cool gadget called the Ikan. It perfectly complements the online/grocery delivery market (should it ever arrive here again), and it's designed to eliminate trips to the grocery store and save you time (and gas).
Since Hawaii has no stores with which I could test this out, sadly, I couldn't play with one directly.
Ikan is basically a Wi-Fi-enabled barcode scanner that you'd want to keep next to your wastebasket. It keeps a database of more than 1 million products, so whatever wrapper or container you throw away, scan its bar-code and the product immediately goes into your Ikan online shopping cart. If your item does not have a barcode or the barcode is worn out, no worries, there's a voice recorder you can speak into. Just say, "Milk, apples, oranges," and the messages will be saved automatically to your account and you can access it with the Search & Add section later.
Physically, the device is white with a color screen and the laser scanner is on the bottom. You can place it either on your counter-top stand (included) or mount it on the wall (mount sold separately). With the environment in mind, Ikan claims to be a "green," environmentally conscious company.
When you scan a product that can be recycled, it lets you know and tells you what receptacle to place it in.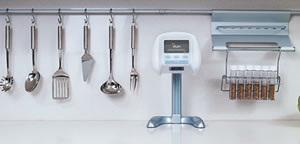 This creative gadget was invented by four New York entrepreneurs with young families and never enough time. They decided to do a study on where all the hours go in their lives and found out a great deal of it was grocery shopping. After their research and development, out came the Ikan.
After a successful beta test, the Ikan System launched in the beginning of 2008, starting with the New York City metropolitan area and spreading across the country with different retail supermarket chains.
I can see this being a big hit as more and more stores join in, and perhaps if the $399 price tag is lowered and more features are added (perhaps a recipe database to utilize that Wi-Fi connection even more). More particularly, if stores in Hawaii decide to participate, I think many folks would use it here. With our gas prices so high, think of all the fuel it'll save you, not to mention turning a few-hour-long trip to the store into minutes. Even a nominal delivery fee would be worth it.
Although Ikan doesn't have any agreements set up with Hawaii grocers yet, we can only hope it happens in the near future - it would surely save lots of my time. Even without delivery service, you can always use the Ikan to track your groceries so you know exactly what house supplies you need to replenish.
Keep this in mind for your family and friends on the Mainland, or if you're planning to move there. Visit www.ikan.net for more information and to watch a demo video.
Most Recent Comment(s):