Halo 3: It's Well Worth The Wait

By
.(JavaScript must be enabled to view this email address)
October 03, 2007
|
Share

Del.icio.us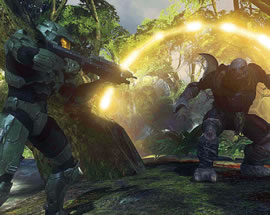 If you were one of the fellow lucky ones to be chosen for the Halo 3 beta in May, you know how good this game is. More than 820,000 lucky people around the world participated in the beta, and logged more than 12 million hours of online gameplay. Can you imagine? That's equivalent to about 1,400 years of continuous play by a single person!
Well, that's how big this whole Halo thing is. Last week, on Sept. 25, the world finally saw the much-anticipated full and completed version of Halo 3 hit the market. People were standing in line for hours to wait for their copy, and it was so big that the presales number hit the 1 million mark in July - two months before the actual launch!
Halo 3 picks right up from the ending of Halo 2. You as the Master Chief, a genetically altered enhanced supersoldier, must race back to Earth to stop the Covenant once and for all to save mankind. The war has come to a climax, and the Flood continues to grow in numbers and strength as the armies of Earth are scattered. Your mission is to stop the Covenant, destroy the Flood threat and ultimately save mankind.
Playing Halo 3 marathon-style brought flashbacks to my mind. When Halo 2 was new a few years ago, my husband (then-fiance) and I were playing this late into the night while simultaneously planning our wedding. This time, we're just playing it co-op with nothing huge going on in our lives right now.
The first time we popped in Halo 3, since I logged in after my husband, I had to play as the Arbiter, the disgraced commander of the Covenant Fleet of Particular Justice. My husband was able to play as the Master Chief. At first I was disappointed, but the Arbiter is pretty hard core. In Halo 2's co-op play, both players are the Master Chief. Apparently Halo 3 does not let you do that, but you can do coop play with up to four players in the campaign mode, with split-screen support. You can even do it all on Xbox Live if you choose.
The entire campaign has nine chapters and takes about 10-15 hours to complete, depending on your skill level. Once you finish the campaign, you can jump to any of them again to relive your glory days. Once you become bored with that, you can then participate in multiplayer matches with up to 16 players, using 11 different maps. You can play various modes ranging from deathmatch, team death-match and capture the flag. Any of the maps you choose will support your choice.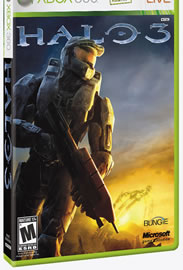 There are many added features you can take advantage of. Using the file-sharing option, you can share your screenshots or matches/films (campaign or multiplayer) with anyone around the world. You'll see and hear the game in its full glory with high dynamic range lighting (HDR) and fully positional Dolby Digital 5.1 surround sound. Additionally, the AI (artificial intelligence) characters are enhanced with individual distinct personalities, strategies and fighting style to make your game-play experience more interesting. One of the greatest additions is the Forge mode. This allows you to arrange objects, equipment and hazards within the predefined geometry of any Halo 3 multiplayer game. The Forge mode is basically a map editor, but not in the 3D sense you might think of. Your changes are all done in real-time, and you can even share your Forge conceptions with other players.
One of my favorite equipment add-ons is the Bubble Shield. This is a little something you can throw down when you're under heavy fire, and it will deflect all projectile weapons and grenades that are thrown at you. The best part of it is that you can still shoot your enemies right through it while you're being protected. Then you also have the Trip Mine and the Grav Lift, a short-range lift allowing easy vertical elevation of objects and vehicles. Most of the weapons remain the same, but I enjoy toying with the Missile Pod. This little wonder can carry eight guided missiles on my shoulder. The trick is finding one on the ground.
You'll hear many of the same voices you did in Halo 2 with the respective characters, as well as the same (and new) music. Overall, the game is another great storyline with more flexibility, with the ability to share maps, screenshots and films.
So far Halo and Halo 2 have sold more than 14.8 million copies worldwide (both Xbox and PC versions). With Halo 3 now on the market, at the end of this year it's expected that fans will spend about $1 billion on Halo franchise total. That's just amazing!
As with much of the world, as crazy as it sounds, I'll be even more sleep-deprived than usual to stay up to play Halo 3.
Halo 3 is rated M for Mature (ages 17+) and available at your nearest GameStop (www.gamestop.com), CompUSA(www.compusa.com) or Best Buy (www.bestbuy.com) for $59.99 (standard edition).
Most Recent Comment(s):