Happy Birthday, AOL

By
.(JavaScript must be enabled to view this email address)
June 02, 2010
|
Share

Del.icio.us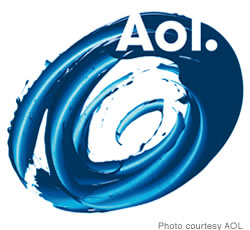 AOL is an iconic Internet pioneer, but whatever happened to it?
Well, last week it turned 25. AOL was popular in the 1990s, but you hardly hear about it these days even though you're probably visiting Web sites owned by it. My personal favorite AOL-owned Web sites are Engadget (engadget.com) and the recently launched KitchenDaily (kitchendaily.com). Other than that, it seems the only major thing AOL has going is the chat service. Admittedly, I still use my AOL chat account to utilize iChat on my Mac. Otherwise, I usually use the chat built into Gmail to communicate with people.
It's a little sad to see AOL turn 25 yet hardly be recognized for the huge impact it's had on millions of people. I still remember dialing-in with my phone modem, hearing that static-y connection noise (you know what I'm talking about) and anticipating the "You've Got Mail!" voice. Back then, receiving an e-mail was so exciting, especially since having an e-mail address was more of a novelty. Nowadays, e-mail communication is the norm.
AOL's glory was brief as dial-up services died off and broadband connections from phone and cable providers took over. Its most recent quarterly results indicated its dial-up Internet service revenue dropped 28 percent to $283 million, and advertising revenue took a 19 percent dive to $354 million.
AOL's co-founder Steve Case has a positive outlook, as it seems the company has been trying to reinvent itself as a content and advertising company since it broke away from the disastrous Time-Warner merger.
"It's an honor to be back on the AOL campus and witness firsthand the abiding commitment to the company's core mission and founding values," remarks Case, a Honolulu native. "AOL's staying power is a testament to its everyday relevance in American lives. That's what keeps AOL thriving and allows it to evolve as it embarks on what promises to be another exciting 25 years marked by unprecedented innovation and creativity."
Despite its ups and downs over the years, AOL still remains one of the most recognizable brands in the world, and in April ranked No. 5 in Web traffic among all U.S. Web properties, with 115 unique visitors, according to the market researcher comScore. Right now it reaches a domestic U.S. audience of more than 100 million unique visitors per month and more than 250 million unique visitors globally.
Last month AOL announced an agreement with Digital Sky Technologies, the largest Internet company in the Russian-speaking and Eastern European markets, to buy its ICQ instant-messaging service for $188 million. I hope AOL continues to find more opportunities such as this one to develop and grow. Keep up the good work, guys!

Click Chick's iPhone App of the Week: skobbler Navigation
Skobbler uses digital maps by OpenStreetMap (the "Wikipedia of maps") and turns your iPhone into a navigation device. Yes, you can navigate with your iPhone's built-in Google Maps app, but skobbler allows you to improve/change the map if you find any errors.
Some of the features include turn-by-turn GPS navigation, bird's eye view map display, intuitive operation, precise audio devices, visual turn guidance, integrated iPod control for playback during navigation and day/night mode to view the map display.
You can download skobbler for free at the iTunes App Store. Some of the maps are slightly choppy and it seems to need a little polishing, but not bad for a free app.
Most Recent Comment(s):