Hassle-free Holiday Videos

By
.(JavaScript must be enabled to view this email address)
December 16, 2005
|
Share

Del.icio.us
Ever since I can remember, my parents always videotaped just about every important event in my life, and they took the camera everywhere we traveled. It was a trusty camera, but I swear my mom could have launched a missile from it because it was so hunking big! And those tapes it used ... that's another story.
Well, thankfully, over the years camcorders became smaller and smaller, with one problem - they all used tapes, which can get expensive. A few years later, the DVD-recordable cameras came into fruition (which wasn't actually that bad, because DVDs aren't that expensive). Well, here and now, the video camera gods have given us one of JVC's latest creations, the Everio G series camcorders.
The Everio G series camcorders consist of five different cameras, which will give you ample recording time without worrying about tapes or DVDs to carry around and lose. The GZ-MG40 and GZ-MG20 models have a 20GB hard drive with 25 hours of recordable time. The GZ-MG70, GZ-MG50 and GZ-MG30 models have a 30GB hard drive with 37 hours of recordable time. To give you an idea of how much you would save, it would take 22 DVDs to fill a 30GB hard drive. You could probably store your entire video library on your Everio's hard drive and then transfer the best scenes to your computer or DVD burner.
The latest and greatest release of Everio G series is the GZMG70 which has the capability to record at MPEG-2 quality. This is the highest quality (Ultra DVD Movie) it can record at, and it basically means you can record at DVD movie quality (seven hours of storage). The fine (DVD) mode gives you 10.5 hours, Norm (TV) 14 hours and Eco (Internet) gives you the full 37 hours.
The Cyberlink DVD solution is bundled into your Everio G purchase. It comes with PowerProducer (video author your video clips), PowerDirector (video editing) and PowerDVD (plays back clips and DVDs with Dolby Digital audio). JVC and Apacer also developed a DVD burner that connects directly to your Everio G camera without having to use a computer.
The Everio G series range in price from about $600 to $1,000. Keep in mind GZ-MG70 is the top of the line and the most expensive, but in the long run you will save money on not having to buy DVDs or tapes anymore. Look for it at www.jvc.com, Shirokiya or any other authorized JVC dealer.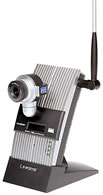 Monitor Your Home From Afar With A Web Camera.
Sometimes while I'm at work I'll wonder what my mischievous pets are up to ... which cat is throwing up on the vacuum cleaner or how many pellets my parrot is really throwing out of his cage. I guess it's sort of like how a parent would think about what their kid is up to. Well, it's easy to monitor "the kids" with a web camera.
Web cameras are nothing new, but people are increasingly using them as security cameras or to just curiously monitor activity inside the home. To get started with an effective web camera you can actually monitor online, you need a broadband Internet connection and a camera kit bundled with the proper hardware and software. Camera setups can be wired or wireless, but wireless offers more flexibility since it's not tethered to your computer.
Once your camera is installed, it will have its own IP address (a number that identifies the camera on the Internet). You type this number into any web browser (with your given password) and you'll catch Fido in the act of chewing a chunk off the couch.
There are a variety of web cameras specifically designed for home monitoring with a wide price range. The most economically effective one is probably the Linksys WVC54G Wireless G Internet Video Camera. The camera includes its own web server, which means you can connect directly to a network without being plugged into a computer. Putting the camera in security mode automatically sends you e-mail alerts (up to three e-mail addresses) with video clips upon motion detection. The WVC54G comes with an easy to use Linksys Viewer and Recorder with a
Snapshot feature (lets you take still pictures). This allows you to record video and audio to your computer's hard drive. It uses Wireless-G (802.11g) networking with advanced MPEG4 video compression, giving you up to a 640x480-pixel audio/video stream. The WVC54G sells for about $190 from CompUSA/ www.compusa.com or www.linksys.com
A higher-priced alternative is the D-Link DCS-5300G Internet Security Camera.
It is more than double the price of the Linksys WVC54G at $440 per camera, but with the added capability to pan the camera up to 270 degrees horizontally, tilt it up to 90 degrees vertically and a 4x optical zoom to view the action close up. You can also monitor up to 16 cameras simultaneously on a single screen with the option to connect it to your television and VCR (if you even still have one of those). As with the Linksys, it records using MPEG4 compression, video is recordable to your computer's hard drive, and e-mail alerts can be sent to you. It is available at www.dlink.com
Most Recent Comment(s):