Hawaiian Topics And Skype IM

By
.(JavaScript must be enabled to view this email address)
August 13, 2005
|
Share

Del.icio.us
All the attention on Hawaiian issues on the news lately makes me think about the preservation of the Hawaiian language. For those of us who've grown up in Hawaii, Hawaiian words and phrases are a part of our regular vocabulary. I'm no Hawaiian language scholar, nor do I claim to hold conversations in Hawaiian, but after spending a couple months on the Mainland, I've definitely taken for granted the Hawaiian words I use in my everyday life.
For those who are learning or want to learn the Hawaiian language, Topics Entertainment has a program called Instant Immersion Hawaiian. It's no substitute for taking actual Hawaiian classes and learning the language the "traditional way," but it can be used to enhance your learning experience or if you just want to get the gist of the language.
The program comes with eight audio CDs that help build fundamental language learning, ranging from beginner to the intermediate level. It does not come with textbooks, but the audio CDs are meant to immerse you into the language so you will absorb its verbal teachings. You can conveniently listen to the audio lessons in your car, on the computer, or turn it into audio files to listen on your mp3 player anytime. This goes for the other languages available in the Instant Immersion series — Japanese, Chinese, French, Spanish, Italian, English and more. In addition, the CDs come with cultural notes that includes a glimpse of customs, etc. — in the Hawaiian series' case, it goes island by island. Being a local, it's nothing new, but may be useful for a visitor to our islands.
The Instant Hawaiian Immersion product received the Judges Award: Language Learning from the 2005 10th Annual Audie Awards by Audio File Magazine. It is available for about $20 at your nearest CompUSA, Borders Books and Music or Barnes & Noble.
Topics Entertainment makes an array of other educational software that includes SAT preparation, Phonics Success (a software tool designed specially for elementary students), various business training tools, videos and more. Log onto www.topics-ent.com for more product information.
Skype Your Way Around The World.
I'm an avid user of instant messaging (IM) since it's so convenient and efficient for me to talk to my friends and family members who are online. I usually use iChat/AOL services for this purpose, but I also use Skype to communicate for those that don't have iChat/AOL.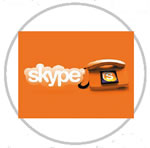 Skype has been around since 2003 and is a computer-to-computer (or peer-to-peer — P2P) network that allows you to speak, send text messages or files via the Internet at no cost. You can do all this with most regular instant messaging programs, but the difference with Skype is that it allows you to make phone calls to (non-computer- based) phone numbers using Internet telephony (VoIP), and I find the sound is sometimes clearer than using iChat. Other buzz tells me that the voice quality is also better than MSN or Yahoo! chat.
Using the basic free Skype services comes with everything mentioned above plus the ability to conference with up to five users. SkypeOut is an additional service that allows you to make phone calls to regular landline numbers for an average cost of 2 cents a call. The prices vary depending on the destination you're calling, and costs more if you are dialing a cellular phone number. With Skypein, another service, you can get your own regular phone number so everyone can call you within their area code. If you have friends in many places, you can get up to 10 Skypein numbers that act as regular phone numbers. It costs about $12 for a three-month subscription and $37 for a year. It also comes with Skype's voicemail service, so you'll never really miss a call.
You can download Skype for free at www.skype.com. It's compatible with Windows, Mac, Linux and Pocket PC platforms. Minimally, you require a computer with a microphone and speakers, or a headset with a microphone. The founders of the popular P2P file sharing software called KaZaA created Skype. The company's goal with Skype is to provide a simple and reliable communications tool that just works. If you're worried about your network configuration, it does work behind most firewalls and gateways without providing new security risks. Skype calls are encrypted for users' security, and a strict privacy policy is followed. Note that Skype is not a telephony replacement service and cannot be used for emergency 911 dialing.
If you're not on Skype yet, and want to keep in touch with someone halfway across the world, try it out for yourself. Hey, why not? It's free!
Most Recent Comment(s):