Hello, Earthlings, I Am DROID

By
.(JavaScript must be enabled to view this email address)
November 25, 2009
|
Share

Del.icio.us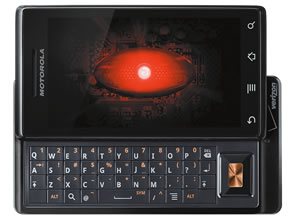 Earlier this month Verizon Wireless released its much-anticipated DROID smart-phone. This phone is the first to be powered by the Android 2.0 operating system, offering some nice refinements.
The phone physically matches up to its name. It looks "droidy" - all black and industrial, definitely a masculine phone. The 3.7-inch, high-resolution screen (854 x 480 pixels) is sharp, allowing you to view your e-mail, browse the Web and Google Maps in cinema style. The Google Maps Navigation provides you turn-by-turn voice guidance, and you can use voice shortcuts and say "navigate to (your destination)." Additionally, you can do your Google searches using voice-activation, and it will serve up your search results based on your location.
Another great feature is the five-megapixel camera with auto focus, a dual-LED flash and image stabilization. The camcorder has a 16:9 cinematic display and offers you one-touch playback and easy uploading to YouTube. The phone includes 16GB of storage (on an included memory card) and a full slide-out QWERTY keyboard. It's customizable with more than 12,000 apps and widgets from the Android Market including music, news and sports games. The phone allows you to toggle among up to six apps at a time.
Verizon Wireless is marketing the DROID as an iPhone killer, especially in its recent TV ads: "iDon't have a real keyboard. iDon't run simultaneous apps. iDon't have interchangeable batteries. Everything iDon't, DROID does."
I won't even go there with the comparisons, since we are talking about two very different phones, but I can say that the DROID is definitely the best phone on the Verizon Wireless network. You can buy one for $199.99 with a new two-year customer agreement after a $100 rebate. Check out www.droiddoes.com for more information.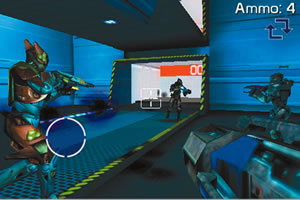 Click Chick's iPhone App of the Week: Eliminate Pro
Eliminate Pro is the first online first-person shooter (FPS) that can fit right into your pocket. I was a little skeptical of this app when I first heard about it, but that quickly changed once I downloaded and played it. This FPS has live online multiplayer combat against real players around the world (or just your friends, if you want), along with a system for leveling up and purchasing weapons.
Your goal is to put the most advanced weapons to the test. You earn credits based on performance to buy better gear and upgrades. You can master multiple combat arenas as you experiment with jet packs, berserker shields, cloaking devices and a variety of power-ups. Your progress is easily tracked with Plus+ enabled leader boards and awards. If you're not ready to play against real people, you can practice with the game's bots, but you won't earn any credits for it. The graphics and sound are both polished, especially for a free iPhone game. You'll just need to acquaint yourself to the controls a bit - playing an FPS on the iPhone was a new experience for me.
This is a good time-killer if you're stuck in an airport or a long line. Find it for free at the iTunes App Store.
Most Recent Comment(s):