Here Wii Go With Nintendo

By
.(JavaScript must be enabled to view this email address)
May 19, 2006
|
Share

Del.icio.us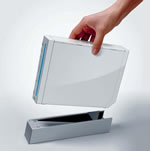 Wii
I was eagerly anticipating Nintendo's release of its latest and most innovative console, formerly known as the Revolution. About a month ago, and much to my disappointment, the name was changed to Wii (pronounced "we" - portraying its all-inclusive nature). Oh well, I guess the name will eventually grow on me. At this year's Electronic Entertainment Expo (E3) Nintendo finally unveiled the Wii in all its glory. This console will literally change the way video games are played.
When I play video games, I usually move with the action. My husband teases me about that all the time since I'm a very "interactive" gamer. I'm sure I look ridiculous as I lean from side-to-side while playing driving games. It's not like my body movements really make a difference if I'm trying to bank a fighter jet or evade a missile with a flight simulator, or dodge a bullet with a first-person shooter. However, with the Wii, all that changes. Your physical movements actually become a real part of the gameplay.
The Wii makes you feel like you're in the game. The remarkable controller senses your movements.
The swing of your arm causes you to hit a tennis ball, swing a sword or fire a weapon. That breaks the barrier of the current-day controller where only the movement of your thumb would control these actions. With the Wii bringing gaming to a whole new level, Nintendo hopes to expand the video game experience to everyone, regardless of age, gender or gaming experience. According to Reggie Fils-Aime, Nintendo of America's executive vice president of sales and marketing,
"It will attract all kinds of new players, thoroughly satisfy the hard-core gamers."
One of Wii's launch titles will be Wii Sports. The tennis game was demonstrated at Nintendo's press conference with four players (the maximum amount). Anyone can pick up the Wii's remote to hit and feel the ball. Whether you're hitting a straight shot, forehand or backhand, all you need to do is simulate the arm and wrist movements of a real tennis game. In the baseball game you can hit or pitch a baseball using the Wii Remote to make the characters on-screen mimic your movements. There will also be a golf game where you can use the Wii's remote to drive the fairways or putt for the cup.
Some titles for the Wii include The Legend of Zelda: Twilight Princess (uses a special nunchuk controller attachment and a special motion sensor), Metroid Prime 3: Corruption, Excite Truck, Tony Hawk's Downhill Jam, Marvel: Ultimate Alliance, Call of Duty 3, Madden NFL, Codename: Final Fantasy Crystal Chronicles and more. Wii will also include backward compatibility with older Nintendo games. This "Virtual Console" provides downloadable access to Nintendo games from the NES, Super NES and Nintendo 64, and Nintendo Game Cube.
Nintendo has not announced an exact launch date or price yet, but expect to see it during the fourth quarter of this year. I'll keep you posted when I hear more.

Nintendo DS Lite. Although the Wii was definitely the star of the show at E3, Nintendo also announced the Nintendo DS Lite, a lighter, brighter version of the Nintendo DS. The redesign features a more compact size and screens with four adjustable brightness levels.
The original DS launched in November 2004 and since then, more than 16 million units worldwide have been sold. More than 100 games will be available for the DS this year alone. Some of the titles include the big fan favorites: New Super Mario Bros, The Legend of Zelda: Phantom Hourglass, The Legend of Zelda: The Wind Waker, Chibi Robo: Park Patrol, Elite Beat Agents, DK: King of Swing (sends Donkey Kong on a swinging new adventure), Hotel Dusk: Room 215 and Pokemon Mystery Dungeon: Blue Rescue Team. Other games in development include featuring Star Fox, Wario and Kirby and Yoshi's Island.
You can find the Polar White system for about $130 at various retailers.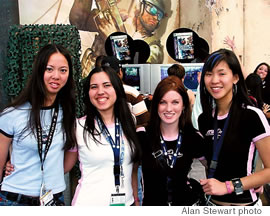 The author with Kari Toyama and Frag Dolls Ashley
Jenkins and Emily Ong at the E3
Girl Gamerz At E3. As I was walking around E3, I happened to run into some of the Frag Dolls, a group of female gamers, and local girl Kari Toyama from Aiea. It was good to run into fellow girl gamers and, even better, one from Hawaii.
When I saw her, 21-year-old Toyama was playing a game of Tom Clancy's Ghost Recon Advanced Warfigher, one of the newest in the Ghost Recon series, and a first person shooter (FPS) title. It's not a typical game you would see a female playing, but hey, that's how I roll too! It was refreshing to meet another female who shares my interest in FPS games.
Toyama's mother, Suzy Mehlhorn, was one of the first females in Hawaii to run a MUD (Multi-User Dungeon) out of their house for the ever-popular game Dungeons & Dragons in the mid-1990s. This explains her love for gaming that began at a very early age. Toyama loves gaming so much that she plays more video games than her boyfriend! I don't know about you, but I find great humor in that.
For the past few months, Toyama was trying out to join the Frag Dolls, came very close, but unfortunately did not make the final cut. This still won't stop her from her love of video games and her favorite Halo 2 on the Xbox. In the meantime, Toyama is transplanted in Seattle while she continues to pursue her psychology degree.
Most Recent Comment(s):