HMSA Introduces Online Care

By
.(JavaScript must be enabled to view this email address)
December 24, 2008
|
Share

Del.icio.us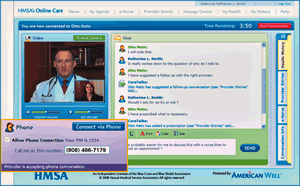 By merging medicine and technology, HMSA is leading the way with its new online care. On Jan. 15, HMSA will become the first health plan in the U.S. to introduce integrated online healthcare to consumers. This solution brings together American Well's Online Healthcare Marketplace and Microsoft HealthVault, Microsoft's online consumer health platform. The integration of the two allows you to use your health information to interact with physicians live, online and on-demand from your home or office.
"We've signed up more than 100 physicians from around the state in just three weeks, and many more have told us they're interested in participating," said HMSA vice president Michael Stollar.
"By the time the system goes live on Jan. 15, we may have twice as many physicians ready to go online and meet with patients. We expect more physicians will come onboard next year as the community responds favorably to the ease, convenience and affordability of online care."
A variety of specialty physicians have signed up to participate, including general practice, family physician, cardiology, internal medicine, OB/GYN, ophthalmology, pediatrics, psychiatry, surgery, urology and more. Interested physicians can continue to sign up past the Jan. 15 launch date, and will have the freedom to log on anytime to assist patients.
"The strong interest among physicians in Hawaii to sign up for HMSA's online service is very positive news, and demonstrates the momentum behind giving people new options for interacting with their care providers when they need to, and from a location of their choice," says Nate McLemore, senior director of business development, Microsoft Solutions Group. "Microsoft is very pleased to be collaborating with HMSA and American Well to bring innovative solutions to people in their homes, and to make it easier and more convenient to manage their health. We look forward to seeing the impact of the service on the lives of Hawaii residents, and to seeing the American Well service rolled out to other states through innovative health plans like HMSA."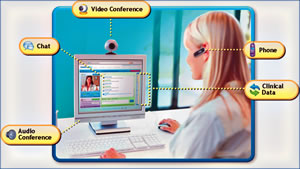 Microsoft's HealthVault platform allows you to collect, store and manage your personal health information so you can share it with physicians, family members and other trusted third parties. You can store information from multiple sources, such as hospital records, home-monitoring devices and patient entries. Additionally, American Well's Online Healthcare Marketplace enables the live communication between you and the healthcare provider.
When the service becomes available next month, be aware that you do not need to be an HMSA member to take advantage of it. You can access it via the Internet or a phone call. Either way, you'll be able to speak to a physician anytime from anywhere.
HMSA's Online Care is not intended to replace face-to-face visits with your physician, but is to be used as a convenient alternative when you can't make it there. Since this is an online service, you can use it after business hours, on weekends, holidays and whenever you need to speak with a physician right away.
HMSA's Online Care is accessible by logging into www.hmsa.com. For a 10-minute session, HMSA members pay $10; $45 for non-HMSA members.
Most Recent Comment(s):