How To Recycle Your Techie Trash

By
.(JavaScript must be enabled to view this email address)
February 21, 2007
|
Share

Del.icio.us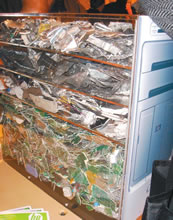 You may remember my story over a year ago about recycling your computers with the Hawaii Computers For Kids Program. That is a great program, but since then I've received many questions about how/where to recycle other items such as printers, toners, batteries, etc. There are multiple sources, but in some cases, keep in mind that it may cost you a little money.
To do your part in saving the environment, it's worth it, don't you think?
I felt a little guilty when I saw the HP booth at the Consumer Electronics Show this year and the clear CPU full of shredded stuff that will eventually be made into other goods (see photo). I admit, out of laziness I throw away my printer's inkjet cartridges without a second thought. Not only that, but in the past I've thrown away many other things that I probably shouldn't have. It won't happen again now that I re-realized how easy it actually is to recycle and not just waste these things.
HP has a comprehensive recycling program that includes inkjet/LaserJet cartridges, computer hardware and rechargeable batteries. If you ever purchased an HP toner (LaserJet) cartridge, you know that it comes with a postage-paid return shipping label to send it back when you've used it all up. That's easy. The little inkjet cartridges are a different story since they don't come with that, so it makes it tempting to just toss it in the trash. Don't do it!
Visit www.hp.com/recycle, and there you can order free return inkjet labels to send those things back, guilt-free. Then for your rechargeable batteries (found in laptops, handheld devices, most cameras and some printers), click on the "Recycle rechargeable batteries" link and it will take you to HP's partner (Rechargeable Battery Recycling Corporation -www.rbrc.com). You type in your city/state/zip code, and it tells you the closest place you can drop off at (for free). I did several searches, and it seems just about any Radio Shack will take these. I noticed that the Home Depots were participants in this too. This is fairly widespread with a total of over 32,000 retail drop-off locations in the U.S. and Canada.
If you're looking to recycle your computer or other hardware through HP, this is where costs are involved. Your amount will depend on what you need to rid yourself of. Click on the "Recycle computer hardware" link, and you'll need to describe your hardware, weight, packaging, etc., then your customized quote will be generated. Your price will range from $17-$46 per item, depending on what it is, and you will also receive a coupon from HP (ranges from $20-$50) off your HP purchase (minimum purchase of $10 over the coupon amount). If you would like to speak with an HP Planet Partners representative for more information, call 1-800-340-2445.
Another recycling option is through Apple's Electronic Recycling Program (www.apple.com/environment/recycling/nationalservices/us). It partners with Metech International, and for $30, a UPS label will be mailed to you. When you're done packaging everything up, you take it to the nearest UPS location to rid yourself of the old stuff, without guilt I might add.
If you want to make sure your donation is going to a worthy cause, visit the National Cristina Foundation's website (www.cristina.org). Your available goods will be matched up to what the needs are. The organization gives your computer equipment and software a second productive life by placing your resources with charities, schools and public agencies, and to provide training to students at risk, the economically disadvantaged and people with disabilities.
I encourage you to do your electronic part in saving the environment ... use one of the methods above to dispose of your techie trash.
Most Recent Comment(s):