HTC's Droid Incredible: It Is

By
.(JavaScript must be enabled to view this email address)
May 19, 2010
|
Share

Del.icio.us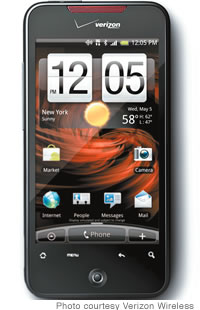 If a phone has the word "incredible" as a part of its name, I'd hope it would live up to it. The new DROID does just that. Far surpassing the Motorola DROID, the Incredible graced the wireless market late last month. The phone doesn't offer any new, ground-breaking features, but it's the best Android 2.1 product on the market today. The combination of enhanced software from HTC and a Qualcomm 1GHz superfast Snapdragon processor makes heads turn to this phone.
I immediately noticed the responsiveness of the Incredible's beautiful 3.7-inch WVGA (480x800) touchscreen. The display features a "Leap" view for quick access to all seven home screen panels. There is an optical joystick, and dedicated touch-sensitive Home, Menu, Back and Search keys to help you navigate smoothly. This is to replace the trackball navigator found on previous devices and is similar to a trackpad. Additionally, the Incredible has a proximity sensor, light sensor and digital compass, integrated GPS and Wi-Fi (802.11 b/g). And last but not least, one of my favorite features is the 8-megapixel camera. It takes great pictures and video for a little cell phone.
As with other Android devices, you have access to the Android Market to buy your apps (30,000-plus available).
I have to say that HTC's DROID Incredible is hands-down the best phone on the Verizon Wireless network, and one of the fastest Android devices out there. Find it at your nearest Verizon Wireless Store for $199.99 (after a a $100 mail-in rebate with a new two-year customer agreement), along with a required Nationwide Talk plan (starting at $39.99/month) and an E-mail and Web for Smartphone plan (starting at $29.99/month, unlimited).

Click Chick's iPhone App of the Week: Glee
Calling all Gleeks! If you enjoy singing or even just watching the popular TV show Glee, you'll love the Glee app. This app is created by Smule, the same company that makes the creative music apps Ocarina, Leaf Trombone and Magic Piano.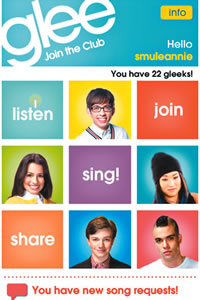 Glee provides automatic pitch-correction and harmonization for the melodies you sing. The correction isn't perfect, especially if you use your iPhone's built-in microphone. The built-in song selection is limited to only three - Rehab, Somebody to Love and You Keep Me Hanging On - with about 20 more available for $1 each. To make up for the missing songs, the A Cappella mode allows you to sing any song, and you can sing along to the songs you have loaded into iTunes.
In keeping with Smule tradition, the Glee app allows you to hear recordings made by other singers around the world. You also can broadcast your own creations and invite others to add their own vocals.
Great app, but I'm disappointed with the limited built-in song selection and lack of Glee classics. But it's still worth the 99 cents from the iTunes App Store.
Most Recent Comment(s):