Hungry for organization? Download Bento

By
.(JavaScript must be enabled to view this email address)
April 18, 2008
|
Share

Del.icio.us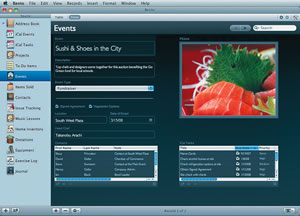 When I hear the word "bento," I think of an ono-licious lunch that needs to be eaten as soon as it's in my hands - mmmmm! The Bento I saw introduced at Macworld earlier this year is not food, but FileMaker Pro's new database program exclusively for Macs using OS X 10.5 Leopard. On its Jan. 8 release date, the FileMaker folks provided Bento lunches for us press folks in the media lounge - very cute.
So far it's been pretty popular. As of last month, more than 250,000 have downloaded Bento (both purchased and trial copies). "Bento's popularity is propelled by the need for easy-to-use organizational software tools such as Bento, and by the rapid adoption of Mac OS X Leopard," said FileMaker president Dominique Goupil.
It's a stylish, hip-looking database that helps you Mac users organize your work and personal life together. As with FileMaker Pro, Bento is a world away from being a boring spreadsheet or boxy, stale-looking database with 20 pre-designed templates available. It is so user-friendly that even the most non-computer-savvy individual can build a Bento database.
Using Bento is a simple way to organize your contacts, calendars, projects, events and more - in one place. It offers an intuitive iTunes-style interface, and you can do any of the following in minutes:
* Manage virtually unlimited contact details
* Track projects, assignments and fundraisers
* Connect related information together to see more details
* Prioritize things that need to be done
* Catalog inventory, donations and items for sale
* Assign ratings to service providers and sellers
* Create libraries for music, movies and media
* Store files and photos related to your projects and events
When you first install and start up Bento, it automatically imports everything from your Address Book and iCal programs.
Additionally, if you make any changes in these, it will automatically show up in Bento. This is especially important for folks using iPhones that sync up with Address Book and iCal.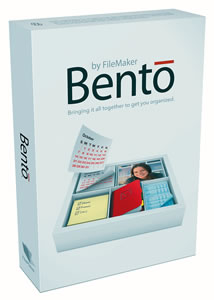 Some of the pre-built templates to choose from are projects, contacts, to dos, events, files, inventory, event planning, time billing, home inventory, expenses, exercise log, membership list, customers, classes and more. If you have a few of these that need to be grouped together - as a diverse database, Bento can keep track of them simultaneously. The bottom line is that Bento can give you a more flexible and extensible contacts/calendar solution that can be associated with other data, not to mention it's stylish.
If you were to use any other database program, you would need to create unique IDs in each table, populate records with the correct values and populate them. Bento does all this in the background without you noticing and relates/displays your items properly in seconds. Though, really, you would only need this if you're looking to build a database or just need to keep track of stuff (i.e. recipes or your training for the next triathlon/marathon).
Bento is very affordable with its $49 price tag (or $99 for a five-license family pack). Download or order it at store.filemaker.com. If you want to take it for a test drive, you can download it or gather more information at www.filemaker.com/products/bento. The hardware requirements are minimal, and if your Mac already runs Leopard, well, you'll have no issues.
Most Recent Comment(s):