In SYNC with Microsoft Auto and Ford

By
.(JavaScript must be enabled to view this email address)
January 18, 2008
|
Share

Del.icio.us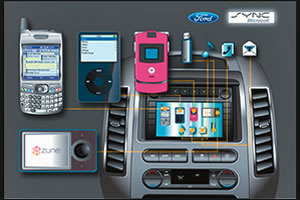 This is seemingly new, but was actually announced at last year's Consumer Electronics Show (CES 2007) - Microsoft Auto teamed up with Ford to launch a factory-installed in-car communications and entertainment system called SYNC, which is designed to change the way we use digital music players and mobile phones in our vehicles.
So far, SYNC has been very popular, selling more than 30,000 unit sales in its first three months on the market. According to Ford, sales are expected to reach 1 million by early 2009.
"From the start, we pursued an updatable software solution with SYNC, using the consumer electronics business as our model,"said Derrick Kuzak, Ford's group vice president of Global Product Development."The ability to add functionality and update the system to work with new devices is what makes SYNC unique in the industry right now. It is a strategy that will benefit our customers over time by ensuring their systems do not become outdated."
SYNC, the Ford-exclusive technology based on Microsoft Auto, provides the convenience and flexibility to bring your vehicle nearly any Bluetooth-enabled mobile phone or digital media player and operate it using voice commands, the vehicle's steering wheel or radio controls. At this year's CES, Bill Gates announced that a new "911 Assist"feature will help drivers connect with emergency services if your air bag deploys.
When your phone is properly paired with SYNC - designed to automatically happen each time you enter your car with your Bluetooth phone on hand - it will provide you with a 10-second window to allow you as the driver (or passenger) to decide to cancel the call. If not cancelled manually within this 10-second window, SYNC will go ahead and place your emergency call. A pre-recorded message will play when the call is answered and you can speak directly to the 911 operator. If you are injured and non-responsive, the location of your vehicle can be determined through voice-signal triangulation or, on some phones, the GPS location feature.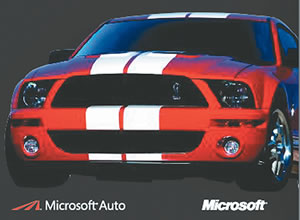 SYNC first became available in fall 2007 with these 2008-model vehicles: Ford Focus, Fusion, Taurus, Taurus X, Edge, Explorer and Sport Trac; Mercury Milan, Sable and Mountaineer, and Lincoln MKX and MKZ. This technology will be on nearly all Ford, Lincoln and Mercury vehicles by the end of 2008.
The voice technology is driver independent, so you don't need to train the system to your voice. Names and numbers from your phone are automatically synchronized. To make a call, you just say "Call" followed by the name, and you also use your voice to choose a song, album or specific artist for music. The key is it promotes safety since you can keep your eyes on the road and hands on the steering wheel by using voice controls.
You don't need to worry about compatibility of your phone or music player since SYNC seamlessly integrates the car with today's popular devices and is upgradeable to the devices of tomorrow. There are two ways you can bring devices into your Ford, Lincoln or Mercury vehicle - Bluetooth for wireless connection of phones and USB 2.0 port for command and control and changing digital media players (including iPod, Zune and most USB media storage devices that play MP3, AAC, WMA, WAV and PCM formats).
For more information on Microsoft Auto and SYNC, or to view demos and to see product compatibility lists, visit www.syncmyride.com
Most Recent Comment(s):