In The Pink, Technically Speaking

By
.(JavaScript must be enabled to view this email address)
October 18, 2006
|
Share

Del.icio.us

Within the last few years I've seen cancer of different types strike people all around me, including a couple of MidWeek / Honolulu Star-Bulletin employees. Keeping that in mind, I know there are multiple ways to contribute to the fight against cancer, but here are a few gadgets that you won't feel guilty about purchasing, and they directly benefit the Susan G. Komen Breast Cancer Foundation: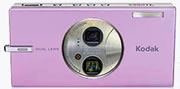 Absolute Pink Kodak Easyshare V705 Dual Lens Digital Camera
This little digital camera is the perfect purse size, and it has an ultra-wide-angle zoom with the KODAK RETINA Dual Lens Technology. It gives you a 5X optical zoom range along with a 7.1 megapixels capability to create high quality prints up to 20 x 30 inches big. The Absolute Pink V705 is available at www.kodak.com and sells for $349.95 ($25 goes to the Komen Foundation). Free two-day shipping will be offered through Oct. 31.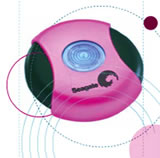 Seagate Pink Pocket Hard Drive
This is a good and practical addition to your purse with its 6GB capacity to store music, pictures, videos or your other files. It only weighs about two ounces and its sleek look and pink color make it attractive to any digital woman. No additional power supply is required, and it has a builtin retractable USB 2.0 cable. You'll see a data transfer rate of up to 480 Mbps. You can buy the special-edition Pink Pocket Hard drive for $109 at pinkpocket.seagatestorage.com. Additionally, it comes pre-loaded with a different songs - The Word by Joan Jett, "Better" by Stefy (with video) and Sunshine by Andrea Rosario, to name a few. Ten percent of your purchase will benefit the foundation.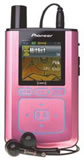 Pioneer XM2go inno Portable XM Radio / MP3 Player
The Electric Pink inno is the first device to offer MP3 playback combined with XM Satellite Radio programming.
It's another good addition to your purse since it features a fully portable satellite receiver with a built-in antenna - then you too can say, "I have a satellite receiver in my purse!" It also has 1GB of flash memory to store up to 50 hours of your files and XM programming.
Also note that this little beauty won CNET's "Best of CES (Consumer Electronics Show) 2006, People's Voice Award" because of its revolutionary portable, handheld features that combine MP3 music and satellite radio.
The Special Edition Pink Pioneer inno will cost you about $300, and it needs to be purchased from either Circuit City (www.circuitcity.com) or XM Radio (www.xmradio.com) to make a difference. Together, Pioneer, Circuit City and XM, will contribute $30 per radio to the Komen Foundation for the first 5,000 radios sold and activated. Free shipping will be offered for a limited time.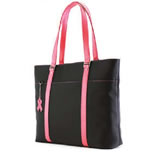 The Komen Collection By Mobile Edge
Carry your laptop computer in style with one of Mobile Edge's stylish totes. Prices range from $130 - $280 for each. Visit www.mobileedge.com to see the entire selection. Ten percent of the retail price from each tote will benefit the Komen Foundation.
The Susan G. Komen Breast Cancer Foundation was founded on a promise made between two sisters - Susan Goodman Komen and Nancy Goodman Brinker. Suzy was diagnosed with breast cancer, and before she died at the age of 36, she asked her sister Nancy to do everything possible to bring an end to breast cancer. Nancy kept her promise and established the Susan G. Komen Breast Cancer Foundation in 1982. Visit www.komen.org for more information.
Most Recent Comment(s):