IngBoo: Information At A Glance

By
.(JavaScript must be enabled to view this email address)
October 14, 2009
|
Share

Del.icio.us
Launched earlier this year, IngBoo brings you a new way to interact with information updates on the Web. It's basically a heavy-duty tracking tool that analyzes each feed to give you the latest information. It tracks and helps you to quickly find just about anything you can think of, including specific news stories, traffic reports, sports scores or ongoing sales. In today's economy, this is really helpful for a job hunter to do quick, yet personalized job searches.
"IngBoo provides all of the information on the Web that is important to you in glanceable, snackable snippets," says IngBoo co-founder and CEO Rikard Kjellberg. "Unlike similar services such as Google Alerts, Trackle and Alerts.com that deliver updates via e-mail, IngBoo updates are experienced in the form of a uniquely designed list that is accessible on desktops and smart-phones."
There are a number of Web applications similar to IngBoo, but really none is as efficient as IngBoo. It helps you keep all your RSS (Really Simple Syndication) feeds, social networking accounts (i.e. Facebook, Twitter) and online interests in one place. Setting up your feeds/info interests is very easy to do with the predefined content catalog/big buttons, or the search function. Once you have that ready to go, you scroll over your topics and the full story appears without actually clicking on the link - very convenient!
For you bloggers, Web publishers and retailers looking to increase your Web site revisits, IngBoo offers a free button that you can place discreetly on your site (similar to an RSS button). This button lets you subscribe with a single mouse click instead of a whole complicated process. Basically, the IngBoo experience is tailored to the folks who may be intimidated by the complexity of an RSS reader.
The best part of it all: IngBoo is free! Too bad there's no iPhone app to go with it yet. Visit ingboo.com to begin your efficient information flow.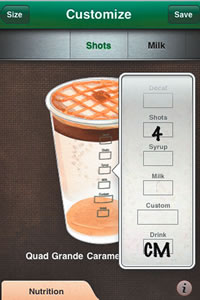 Click Chick's iPhone App of the Week: myStarbucks
It was only a matter of time before Starbucks came out with its own iPhone app, and now it's here. There's not really much to the app, but, hey, it's Starbucks - and as cliche as it is, I love Starbucks coffee. The most convenient thing about the app is the Store Locator. It's not such a big deal here in Hawaii since I know where all my nearby Starbucks stores are, but if I were traveling, I would want to know where all the Starbucks are.
You can build your perfect drinks, save and share them via e-mail or if you're close enough, iPhone to iPhone. The Coffee Menu and Food Menu will let you see the full Starbucks selection along with the detailed nutrition information (sometimes it's better not to look at all - but at least my favorite latte is only 170 calories).
One huge drawback of the app is that it doesn't have the capability to look up gift card balances. You have to download a separate app to do this.
Other than that, if you enjoy Starbucks, it'll keep you entertained for a little while. Download the myStarbucks app for free at the iTunes Store.
Most Recent Comment(s):