iPad Sales Soar To More Than 2 Million

By
.(JavaScript must be enabled to view this email address)
June 09, 2010
|
Share

Del.icio.us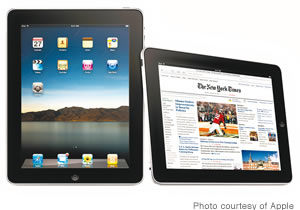 Despite the heavy criticism I've heard from people around me, Apple's iPad sales have topped 2 million since its April 3 launch. It's been so popular that all the local Apple Stores here never have it in stock when I call or visit just to inquire.
"Customers around the world are experiencing the magic of iPad and seem to be loving it as much as we do," says Steve Jobs, Apple's CEO. "We appreciate their patience, and are working hard to build enough iPads for everyone."
As you may remember, I've had my iPad since the launch date, and I've been loving it since the moment I took it out of the box. I even put it through the test on a recent trip. On the way to my destination, my total travel time (with a four-hour lay-over) was approximately 16 hours. Even with that, my iPad still had a 20 percent charge when I checked into my hotel. That's amazing, considering I watched three two-hour movies, played various games and read part of an e-book. On top of that, I traveled only a few days after the iPad release, so I was the only one on the plane with one. The screen was so much bigger and more vibrant than the video players offered on the plane, plus it was kind of fun making the folks next to me jealous.
Since the iPad's launch, developers have created more than 5,000 iPad apps that take advantage of the multi-touch user interface, large screen and high-quality graphics. It will run almost all of the apps available on the iTunes Store. Plus, the iPad is so versatile that I'm actually writing this column on it since my laptop is in the shop for a defect.
Internationally, the iPad is now available in Australia, Canada, France, Germany, Italy, Japan, Spain, Switzerland and the UK.
Additionally, Apple plans to release the iPad in Austria, Belgium, Hong Kong, Ireland, Luxembourg, Mexico, Netherlands, New Zealand and Singapore some time in July.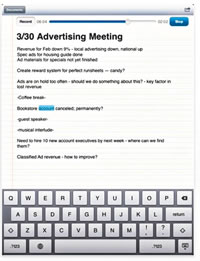 Keep checking your closest Apple Store for availability or shop online at www.apple.com (prices start at $499).

Click Chick's iPhone App of the Week - SoundPaper
There are a ton of note-taking apps, but SoundPaper sets itself apart by pairing audio-recording and type-entry capabilities together. It's probably the most innovative way to take notes in a meeting, lecture or interview. It will work on an iPhone, but it works best on your iPad.
Although I haven't been able to try it out on any interviews yet, SoundPaper is perfect for journalists. If you miss an important detail during an interview, you don't have to skim through pages and pages of hand-written notes to find your answer. Just tap a word from that part of your interview and it'll automatically play back what you missed. Once you're done you can transfer your text, and audio notes via e-mail or directly to your computer. The same goes for students and lectures you want to document.
Trying to multitask using another app when you have SoundPaper open? You may do so, as the app will pause. Once you start the SoundPaper back up, you just need to hit the "Record" button.
Find SoundPaper at the iTunes Store for $2.99. I know that's a little pricey for an app, but it's worth it.
Most Recent Comment(s):