iPhone 3G S: 'S' Stands For Speed

By
.(JavaScript must be enabled to view this email address)
June 24, 2009
|
Share

Del.icio.us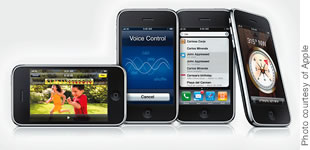 The next generation iPhone 3G S was announced last week, and I stopped my whole world just to watch the live coverage of its launch, since I've been hearing rumors about it for months. If you're an in-the-know iPhone enthusiast, you probably preordered it the day of the launch and already have one in your hand. For the more patient, conservative folks, the "old" iPhone 3G will not be discontinued and you can now buy an 8GB version for $99.
The S stands for speed. The new iPhone 3G S is twice as fast as the previous model.
"iPhone 3G S is the fastest, most powerful iPhone yet, and we think people will love the incredible new features including autofocus camera, video recording and the freedom of voice control," says Philip Schiller, Apple's senior vice president of WorldWide Product Marketing.
Other features include a longer battery life, a higher quality three-megapixel autofocus camera, video recording and hands-free voice control. A new VoiceOver feature enables visually impaired users to make calls, read e-mails, browse web pages, play music and run apps.
There's a new universal Zoom function that magnifies the entire screen, and a white-on-black feature that reverses the colors to provide a higher contrast for folks with low vision. One I can probably use is the Mono Audio, which combines left and right audio channels so that they can be heard in both earbuds for those with hearing loss in one ear. And, last but not least, the phone also includes the new iPhone 3.0 software (as you may remember from my March 25 column).
The iPhone OS 3.0 features more than 100 new functions: Cut, Copy, Paste; MMS; Spotlight Search across your iPhone or within Mail, Contacts, Calendar and iPod (similar to a search in OS X); landscape keyboard, expanded parental controls for TV shows, movies and apps from the App Store; and the ability to capture and send audio recordings with the new Voice Memo app.
Additionally, if you lose your phone, the Find My iPhone feature works with MobileMe so you can locate your lost iPhone on a map, send a message that will appear on the screen, or play a sound to help you find it (even if it's set to silent). If you can't find your iPhone, you can erase all data and content with the Remote Wipe feature - quite handy if you don't want it falling into the wrong hands.
Pricing for the iPhone 3G S is a little complicated - if you "qualify," it's $199 for the 16GB and $299 for the 32GB. I didn't qualify for the special pricing and most iPhone 3Gs won't either. I was quoted $399/16GB and $499/32GB for the "early upgrade price." If you want to buy an iPhone 3G S without an AT&T contract, it will cost $599/16GB or $699/32GB ... ouch! Also note you'll have to pay an additional $30 per month in data charges, and a little more for text messages, depending on your selection - I pay $5/month for 200 text messages a month.
For those of you who just bought an iPhone 3G within the last 30 days, congratulations, you automatically qualify for a free upgrade to the 3G S. If they're in-stock, you can find these iPhones your nearest Apple Store (or online at www.apple.com) AT&T Store, Best Buy or Walmart. If you're still deciding whether or not to buy an iPhone ... remember, it's all about the apps. There are 50,000-plus to choose from - no other smart phone can beat that!
Click Chick's iPhone App of the Week: Sally's Spa
Thanks to Russ, one of the most organized people I know, I found a great time management game - Sally's Spa. When I first saw it I laughed at the complete girliness of it, but it's actually fairly entertaining.
You're Sally, and you're running different spas across the world. You refresh your customers with saunas, manicures, massages, hot stones, and facials in an efficient manner. You're making sure your customers are happy, and you need to make sure you're making an adequate amount of money to keep your business growing. Use the money for upgrades to help your spa business expand and grow.
Sally's Spa is fun for all ages and either gender. Find it at the iTunes App Store for 99 cents (full version) or free for Sally's Spa Lite (similar to Sally's Spa, but with slightly fewer features).
Most Recent Comment(s):