It's Kick Off Time For Madden NFL 12

By
.(JavaScript must be enabled to view this email address)
September 07, 2011
|
Share

Del.icio.us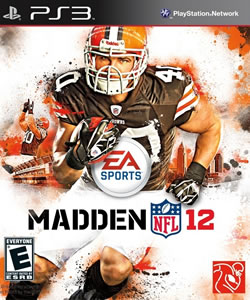 It's that time of year again football season is here, and that means the new Madden is, too! Madden NFL 12 continues the rich tradition of the franchise by bringing fans closer to the NFL than ever before by transforming on-field action and core gameplay modes, and driving innovation in six key areas: Playbooks and Gameplay, Presentation, Franchise and Superstar modes, Dynamic Player Performance, Madden Ultimate Team and Online Communities.
"Madden NFL 12 sets a new benchmark in the franchise by delivering an incredibly realistic NFL experience. The level of detail in the game is unrivaled it's more authentic, more visceral," says Cam Weber, general manager of football at EA SPORTS. "From the all-new collision system that allows you to feel every bone-crunching hit to the revolutionary Dynamic
Player Performance system that replicates how players' skills and confidence rise and fall based on their onfield performance, Madden NFL 12 lives and breathes all the glory and heartache of the NFL. No two games will ever be the same."
The first thing I noticed about the game was the pregame presentation. Before a game begins, you'll see a realistic looking camera closeup of your favorite players as they parade onto the field, along with all the cheerleaders dancing around. The instant replays are cued up right after the big plays, but it seems the game ignores crucial plays sometimes, and the camera angles seem to be too similar.
There doesn't seem to be a huge difference between Madden NFL 12 and Madden NFL 11, but still, after years of seasoning and tweaking, the result is Madden NFL 12's highly realistic experience. The AI (artificial intelligence) this time around is more rewarding thanks to more believable opponents and the revamped tackling system. Because of that, there are so many possible strategies from the opposing team, so you'll never know how your opponent will attack you. That keeps it fresh and exciting.
At the end of the day Madden NFL 12 is a fun, great addition to the Madden franchise and retails for $59.99 for the Xbox 360 and PlayStation 3, $49.99 on Wii, and $39.99 for the PlayStation 2 and PSP (PlayStation Portable). Find it at your nearest
Best Buy (bestbuy.com), GameStop (gamestop.com) or Amazon.com. Additionally, check out the mobile versions for your iPhone/iPad and Android devices, and the new (free) version called Madden NFL Superstars on Facebook.

Click Chick's Mobile App of the Week: myBantu myBantu is a free online personal assistant that helps you with your dining, movie, shopping and local business needs. The searches give you personalized and relevant recommendations based on your wants and needs, considering your preferences and your social network.
Basically, the more you use myBantu the richer your personal profile grows.
Within minutes of making friends with myBantu, the service creates a profile consisting of your favorite social and lifestyle preferences from shopping, entertainment, dining and events, replacing the need for a la carte solutions such as OpenTable, Yelp and search engines.
For example, if you're planning a date night, myBantu creates a personalized list of recommendations based on nine parameters including the user's profile, past usage behavior and peer influence. In addition, myBantu enables you to act on these recommendations, such as making restaurant reservations, purchasing movie tickets, gifts, etc. myBantu is free and is available for your iPhone or Android. Note, although you can use it on your iPad, it doesn't look that great since it's not a native iPad app, just stick to using it on your iPhone.
Most Recent Comment(s):