Joby's growing Gorillapod family

By
.(JavaScript must be enabled to view this email address)
March 07, 2008
|
Share

Del.icio.us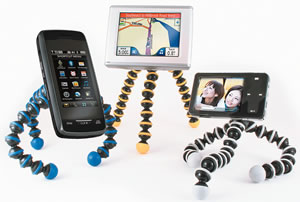 "What is that?"
That's the question I've become accustomed to hearing whenever I bust out my trusty Gorillapod to take a picture. The Gorillapod (made by Joby), a flexible camera tripod, has been around for awhile, and I also wrote about it when it first launched about two years ago.
I ran into the Joby folks at the Consumer Electronics Show (CES) and Macworld, and can tell you that since I last checked, Joby sure has expanded the product line from one Gorillapod to a few different items. The two biggest announcements were the Gorillapod Go-Go! and Zivio.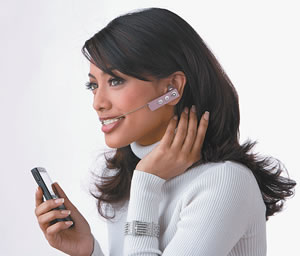 "Over the past 12 months our development team has been working hard to create products that improve the everyday consumer's life, allowing flexibility and freedom from the constraints of technology," said JoeBen Bevirt, founder of Joby. "With the unveiling of the Zivio and the Gorillapod Go-Go!, our goal is to deliver two new products that simplify the connection between consumers and high-tech devices, ultimately creating a more enjoyable user experience. We are thrilled to introduce these products at this year's CES."
What makes a Gorillapod so special is it's a flexible tripod that can wrap around just about anything. No matter which Gorillapod you buy, it's compact enough to carry around in your back pocket, purse or man-bag and features flexible joints that bend and flex 360 degrees to set your camera into the perfect position on just about any surface.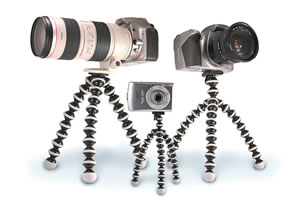 The Gorillapod Go-Go! is a mobile entertainment kit designed so you can hold, position or attach a variety of your gadgets anywhere while you're on the go. The kit will include a Gorillapod Original, suction cup, two quick-release clips along with double-stick adhesive. The Go-Go! is perfect to display your iPod, GPS or cell phone in the car (or wherever you might be). With its $34.95 price tag, the Go-Go! is due to hit the retail market sometime this month.
Next is Joby's Zivio, a Bluetooth headset with an extendable, flexible microphone boom to ensure clear communications in noisy environments. It eliminates background noise and has interchangeable earpieces to best fit your ear. Powered with a CSR BlueCore 4 Bluetooth chip, the Zivio gives you 10 hours of talk time or 200 hours of standby. It's set to release in the spring and will come in different colors (also TBA). No price has been announced yet.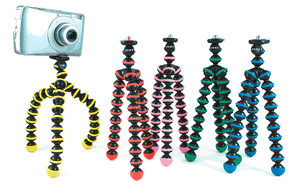 Joby's additional add-ons include colored Gorillapod Originals - yellow, red, pink, green, blue and the original gray ($24.95). The Original supports cameras that weigh up to 9.7 ounces. The Gorillapod SLR ($44.95) can hold up to 1.75 pounds, and the SLR-ZOOM ($49.95) can support up to 6.6 pounds and is probably more for the professional photographers or those who typically use a large lens.
For the past couple of years I've been using my handy Gorillapod wherever I bring my camera, especially for self-portraits with friends. I've had no problems with it, and now I'm enjoying the one for my SLR too. I'm still entertained by how many people ask me what the thing is. Whether you're an amateur or professional photographer, I would recommend you purchase a Gorillapod, especially now that there's a larger selection.
You can purchase Joby's products on its website at www.joby.com or on Amazon (www.amazon.com). Keep checking Joby's website for updates or more information on the Go-Go! and Zivio.
Most Recent Comment(s):