Junk mail solutions; messages on the fridge

By
.(JavaScript must be enabled to view this email address)
May 23, 2008
|
Share

Del.icio.us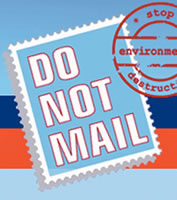 Although I do live techie and mostly paperless, I enjoy receiving snail mail from my family and friends, the magazines I subscribe to and,of course,toys I order online. Besides these,I absolutely hate going through all those pesky credit card offers, postcards from sales-people and catalogs. This takes up a good 10-15 minutes per day as I sort through and shred everything.
All these years I've put up with it, but with my increasingly busy schedule,my time is extremely valuable. The 15 minutes a day equals 90 minutes a week or 78 hours a year. That's a ton of time I could be using to write my MidWeek stories or work on my book! Junk mail just tests your patience, jeopardizes your identity (which is why I shred everything) and wastes paper.
In fact, according to the Do Not Mail (donotmail.org) website, American mailboxes are inundated with more than 100 billion pieces of junk mail each year (or 800 pieces per household). In addition, more than 100 million trees a year are cut down and made into paper for junk mail. Can you believe about one-third of all mail delivered in the world is junk mail?! What a waste!
If you have my same frustrations, here are a few sites that will help give you a good start to stop your unwanted mail:
Donotmail.org (free): Sign a petition to support an easy and comprehensive way to opt out of junk mail (similar to the Do Not Call Registry). Here you can also utilize its opt-out tool. It's a good start.

OptOutPrescreen.com (free): Reject pre-approved offers from credit card companies here. It's the official Consumer Credit Reporting Industry to accept and process requests from consumers to Opt-In or Opt-Out of firm offers for credit or insurance. Personally this is what I receive the most of.
41pounds.org ($41 for five years): Named for the average weight in junk mail the average adult receives in a year, multiple companies will be contacted on your behalf. $15 of your fee will go to your favorite nonprofit (among the group's nonprofit affiliates). www.catalogchoice.org (free): This is for mostly catalogs, and you can find your unwanted catalog on the database and click decline and complete the details.
You may not see results right away, but give it some time for your registrations with these companies to take effect. In the end, you'll be a happier person with a de-cluttered mailbox.

Audiovox Digital Message Center. Another award-winning product I discovered at the Consumer Electronics Show (CES) this year was the Audiovox Homebase Digital Message Center. As the recipient of the Consumer Electronics Association (CEA) Innovation Awards 2008, it was designed to completely shake up the digital frame market.
There are two versions available - one with video recording and the other with just audio messages.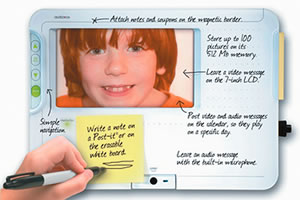 "Our new digital message centers are clearly the next step in the digital picture frame market," said Audiovox Electronics Corporation president Tom Malone. "We've added a practical efficiency to a fun product and designed it for the center of the home - the kitchen. Our digital message centers not only let you display your favorite photos, but also let you record new ones. We believe that the kids especially will enjoy leaving messages for Mom and Dad, which will make keeping track of them fun."
The Audiovox Digital Message Center features audio or audio/video messaging capability through built-in camera and recorders. Since the refrigerator is a universal place where everyone in the house goes multiple times a day, that is probably the best place you can mount your message center.You can leave audio or video messages for your family and tag them to the built-in calendar so they can be played back on a specific date.
The system has a 7-inch LCD screen with 16:9 aspect ratio and 480x234 pixel resolution. You can hold up to 100 pictures with its built-in 512MB memory and go much higher with external memory cards.The digital clock and LED message indicator are built-in, and the magnetic border makes posting random notes or coupons a breeze. It also comes with a book of Post-it notes for a quick scribble. As mentioned above, you can mount this on a refrigerator, but if that won't work, you can do it as a wall-mount or stand on a counter. It includes the brackets for all options that will match the finishes of most appliances (flat wire in white, silver and black).
Find Audiovox's message centers at your nearest Best Buy (www.best-buy.com), www.jr.com or www.newegg.com for $159.99 (DPF710K - audio) or $199.99 (DPF711K - video).
Most Recent Comment(s):