Justice For Laptop Thieves

By
.(JavaScript must be enabled to view this email address)
February 24, 2006
|
Share

Del.icio.us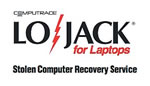 For Valentine's Day this year I received a new laptop from my husband. Being the paranoid, always-prepared person I am, I want to make sure that my brand spanking new laptop isn't stolen. Or, at least do everything I can to prevent it from being stolen and have a backup plan.
Granted, I've been using a laptop of some sort for the past 10 years or so, but it still doesn't hurt to be careful.
Keep in mind that a laptop is stolen every 53 seconds (according to Safeware The Insurance Agency-2004). Additionally, the FBI claims that 97 percent of stolen laptops are never recovered. The most common places from which your laptop would be stolen are coffee shops, hotel rooms and your car. Losing information from your computer could be extremely detrimental to you, especially if you have all your work, pictures and other important files saved on there, as I do.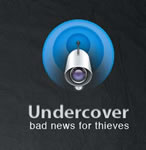 Should your laptop be taken from you, if you have a PC, use Computrace's LoJack For Laptops. For Mac users, use Orbicule's Undercover. With LoJack, once the software is installed, your laptop it works silently behind the scenes to securely contact the monitoring center by sending your computer's info (IP addresses, etc.). If it is stolen, you file a police report and the location of your laptop can be tracked using any Internet connection.
Computrace/LoJack's recovery team then traces your laptop's whereabouts and partners with local law enforcement to recover and return your laptop to you. More than 90 percent of laptops stolen with LoJack installed have been recovered. If your stolen laptop is not recovered within 30 days, your money will be refunded to you. The software is hidden and virtually tamper-proof, and works on desktop computers too.
Similar to LoJack, Undercover transmits network information about your Mac, including internal and external IP addresses and the router address to the recovery center. Once you report your laptop stolen, Undercover automatically starts taking screenshots of your computer so the thief's identity will eventually be revealed when he/she is writing e-mail, chatting or surfing. If your laptop has an iSight camera built-in, it will start snapping pictures, making it even easier to identify the thief and his/her surroundings. In addition, if laptop recovery fails, Undercover's ingenious backup plan simulates a hardware failure by making the screen darker until it becomes unusable, even if the Mac is offline. This should urge the thief to take it in to get repaired or sell it. When that happens, it can easily be detected. Following that, the reseller or purchaser of the stolen Mac will receive a message on the screen notifying them that the Mac has been stolen and a promise for a finder's fee once it is returned. As with LoJack, there is a money-back guarantee, or if you're not satisfied with it within 30 days, you'll still get your money back.
To download LoJack for $49.99 (one-year license), go to www.lojackforlaptops.com Undercover is available for $29.99 at www.orbicule.com/undercover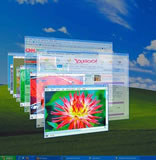 TopDesk 1.4.1
Easy Desktop Navigation. Being a mostly Mac user, I've become used to the functionality and convenience of OS X's Expose program and its ability to display an overview of all windows with a single key push, or just hide everything that's on your desktop.
Not that I have anything to hide, but pushing that F11 button has come in handy for me several times. I've used it to clear everything off the desktop to get to something quickly and to conceal what I'm doing from nosy people looking over my shoulder.
TopDesk 1.4.1 from Otaku Software has given you the possibility for a Windows machine to mimic these same Expose-like functionalities. It gives you a quick and easy way to switch between applications. With a single key press, you can instantly view thumbnails of all open windows, display thumbnails of windows belonging to the current application, or hide all windows to quickly access the desktop. The thumbnails can be viewed in 2D and 3D.
You can use the hot keys to navigate your way around. By default, F9 will tile all windows, including minimized windows, F9+Shift tiles all visible windows and F10 tiles all windows belonging to the current application. F11 hides all visible windows, which is my favorite function. Or if you wish, you can personalize your keys.
TopDesk actions can also be activated by moving the mouse over a mouse hotspot.
Each mouse hotspot can be assigned a different TopDesk action or be disabled. It can also be operated with floating buttons. These buttons float above all other applications and allow TopDesk actions to be activated by a single mouse or TabletPC pen. If you're a dual (or multiple) monitor user, TopDesk is supported with it.
A side note: if you want to keep an ADD (Attention Deficit Disorder) friend busy, this is the perfect thing to put on their computer, as I well learned when reviewing this software. It'll keep 'em occupied for hours.
Go to www.otakusoftware.com/topdesk to download TopDesk 1.4.1. It's $9.95 to purchase or there's a free 30-day trial version available.
Most Recent Comment(s):