Keep Keiki Safe On Facebook

By
.(JavaScript must be enabled to view this email address)
May 11, 2011
|
Share

Del.icio.us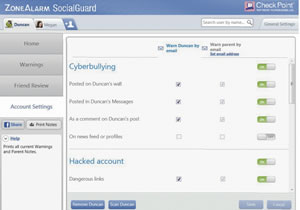 Photo courtesy Checkpoint Software Technologies Ltd.
Although you must be 18 years old to open a Facebook account, many users are under the age of 13. In fact, my friend at work is thinking about letting her 12-year-old daughter sign up for Facebook for her 13th birthday, but is worried about Internet predators. With more than 550 million Facebook users out there, that is a valid concern.
The typical method you would use to manage your keiki's account is by sharing the login, but it can be a full-time job to read all the feeds, messages and shared links.
Thankfully I have some time before I have to worry about this since my daughter is only 17 months old and can't type yet.
To help with your Facebook concerns, CheckPoint Software Technologies Ltd. recently released ZoneAlarm SocialGuard.
This software is designed for those wanting to protect your kids against social threats on Facebook, such as online predators, cyber-bullies, hacked accounts and malicious links. It enables you to monitor your keiki's Facebook account(s) for illicit content in their status updates, wall posts, messages and friend requests, and provides you with real-time email alerts when suspicious activity is detected (without having to be logged into their Facebook account).
While playing with SocialGuard, I used my parrot's account as the testbed (yes, my bird has a Facebook page). How it works: You must have your keiki log into Facebook just once with SocialGuard, then you're set to monitor the account. You can monitor more than one account at a time (it will appear as tabs within SocialGuard). In order for the program to keep sending you warning updates, SocialGuard must running on your computer.
I found it to be detailed, indicating potential strangers, age concerns and inappropriate links for my bird. Apparently three of his friends were flagged for age concerns (but it turned out to be no biggie, since they were his older dog friends). He had no cyberbullying going on, but had two potential strangers. It's interesting how the program searches for these red flags. It digs deep into Facebook and examines circles of friends, and warns if the befriender is outside the circle, estimates their real ages and compares to stated ages and for predators, and checks wall posts and messages for key words/phrases.
ZoneAlarm SocialGuard can be purchased for a fairly nominal price of $1.99 per month or $19.99 per year at http://www.zonealarm.com/security/en-us/zonealarm-socialguard-facebook-parental-control.htm. Before you buy it, try the free seven-day trial.
Most Recent Comment(s):