Keeping Track With Zoombak

By
.(JavaScript must be enabled to view this email address)
April 23, 2008
|
Share

Del.icio.us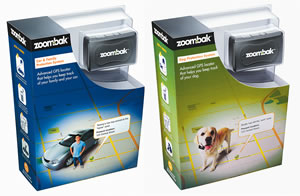 Zoombak is an advanced GPS car or dog locator that uses satellite-enabled GPS and mobile phone networks that you can outfit to your vehicle or attach to your dog's collar. It's one of the first Assisted-GPS ("A-GPS") devices designed specifically for the average consumer.
I originally saw the Zoombak when it was unveiled at the Consumer Electronics Show (CES) earlier this year. Since I do not have a dog of my own, I had to give it to someone who truly appreciates gadgets and also has a dog - I gave it to the boss, Marty N.
He tested out Zoombak for me with his very cute Pembroke Welsh Corgi named Galahad. "The Zoombak locator is the most advanced, versatile and affordable solution for consumers who want to easily find their loved ones and bring them home safely," said Simon Buckingham, CEO of Zoombak. "Thanks to its nationwide coverage, its ease-of-use, unlimited number of on-demand locates and our 24/7 commitment to addressing consumer needs, Zoombak is the best locator solution on the market today."
Marty ended up testing this for a few days - according to him, the setup was easy, considering this is a fairly complex cell phone/GPS receiver. The on-screen instructions made it easy enough for just about anyone to follow. After the initial setup was squared away, Galahad didn't mind wearing the device on his collar. That wasn't too much of a problem with his 30-pound weight but, for a smaller dog, size could possibly be an issue. Marty's wife ended up walking Galahad outside their specified safety zone and took him for a ride in the car to see what it would do. It functioned just fine.
"For Zoombak, I really had to think hard about what it's supposed to do for me, being a die-hard dog fanatic," Marty says. "Would I actually use it if I weren't simply testing this? For example, my GPS receiver helps get me out of trouble, and my iPhone lightens my load when I travel (no more packing my iPod, camera, cell phone and laptop). But for Zoombak, I've really had to think hard about what it's supposed to do for me."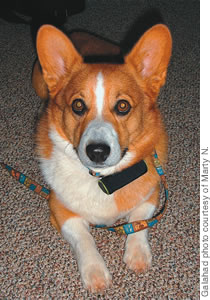 Marty says a dog that is unattended should never be left with a collar on. There is a significant risk of strangulation with a collar left on, but without a collar, there is nowhere to attach the Zoombak. When Galahad has his collar on, it's attached to a leash with Marty or his wife at the other end of it. Ultimately it would be good to know where Galahad is when they're not at home, but the dilemma is they will not leave him at home alone, unattended with a collar on.
"I can think of one scenario where I might find the gadget useful, namely when doing off-leash outdoor training," he says. "That's something we normally do in a dog park, though, and everywhere else we go is subject to leash laws. So I'm still left with a great technological solution in search of a problem."
Overall, since this may not be the best solution for a dog, the car option is fairly viable if you want to track your kids to make sure they don't go into the wrong areas of town. It also would be good to have in your car if it's ever stolen. To me, the biggest drawback is the price - not so much the cost of the device itself, but the fact you have to pay monthly for the service (plans start at $9.99/month). Otherwise I think Zoombak is a good concept.
Another thought that crossed my mind: As Zoombak may expand, it would be great to have a version to give to Alzheimer's patients. Perhaps they could wear it as a bracelet or necklace-type device. Too many times these folks wander off and are difficult to locate. In this case, I think it might be worth paying a monthly fee. We'll see what happens ...
The Zoombak's Advanced GPS Dog Locator is $199.99, and the Advanced Car & Family Locator is 249.99. Both come with unlimited on-demand location requests, free 24/7 toll-free customer phone support, along with an approximate five-day battery support. Check out www.zoombak.com for more information.
Most Recent Comment(s):