Kickin' Okole With Street Fighter IV

By
.(JavaScript must be enabled to view this email address)
April 01, 2009
|
Share

Del.icio.us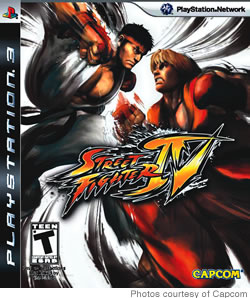 As a kid I spent hours and hours playing Capcom's original Street Fighter II on my then-cool Nintendo 64.
Years later, here I am again ... After standing in a long line, I was one of the first lucky people to see the much-awaited Street Fighter IV in an Akihabara, Japan, arcade last summer. Now the game officially released here in the U.S. last month, so I don't "have to" go all the way to Japan to enjoy it.
After 20-plus years of the Street Fighter franchise, you'll still see your favorite classic 12 world characters: Ryu, Ken, Chun-Li, Blanka, E. Honda, Zangief, Guile, Dhalsim, Balrog, Vega, Sagat and M. Bison, along with six brand new and diverse folks with a 3D and more-adult look. Now you'll also see Abel, a mixed martial arts grapple-style character; Rufus, a big-looking guy with a deceptive amount of speed (he also has the same name as my late cat); Crimson Viper, a female fighter with sweeping airborne fire attacks; El Fuerte, a pro-wrestler who specializes in air throws; Gouken, Ryu and Ken's sensei, who obviously has some extra tricks he didn't teach those two; and Seth, the game's final end boss.
To unlock the complete cast of characters, you'll have to complete the game multiple times. After doing so, you'll see playable fan favorites Cammy, Sakura, Akuma, Fei Long, Rose, Gen and Dan. As with other Street Fighters, you can perform all sorts of powerful super combos, but air blocking and parrying were taken out of this game completely. Instead there's an emphasis on focus attacks, super combos and the revenge-filled Ultra Combo system.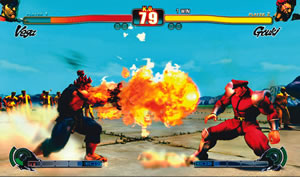 Throughout the years, my favorite characters were always Chun-Li or Ryu. Even though the classic characters were re-imagined for the "new generation" of gamers, I can't stand the way my gal Chun-Li's body was re-done. She looks like a muscle man! Despite that, I'm able to kick some serious butt with her fancy moves (i.e. Spinning Bird Kick). I guess those huge thunder thighs pay off! And my other guy Ryu - he can still shoot out those fireballs, and even do extra powerful fireballs that do more damage than the regular ones.
A new feature you'll see is that each character has his/her own focus attack, a multipurpose offensive and defensive ability that can be charged to one of three levels by pushing/holding the medium punch and kick buttons simultaneously. The negative side of a focus attack is that it makes you vulnerable to damage since you need to stand still to charge it.
Street Fighter IV's single-player mode is fun to play if you're on your own, especially for putting your combos to work. The training mode also gives you the opportunity to practice, but with instructions to follow, and is a good resource that challenges you to improve. The multiplayer mode is supported online and offline. Online you can challenge others somewhat anonymously, and offline go head-to-head against your family and friends.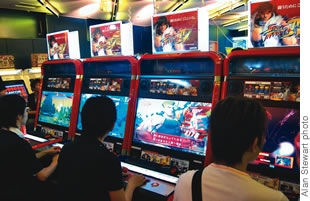 In addition, I found the builtin move list extremely useful while you're in the middle of gameplay. It saves you the trouble of looking up every single move in the manual. While I was playing my husband the past couple weeks, it was driving him nuts every time I pulled up that list to look up the advanced moves.
Street Fighter veterans won't see much change with the good ol' traditional "2D" six-button gameplay, but the fight backdrop locations have dramatically changed. Basically everything that made the legendary Street Fighter II a hit in the arcades and our living rooms back in the '80s has been brought back to Street Fighter IV. The gameplay on my PlayStation 3 (PS3) was pretty much the same as it was in the Japanese arcade, only it was on my TV and I wasn't using a PS3 controller there.
Street Fighter IV retails for $59.99 ($79.99 for the collectors edition), and is rated T for Teen. Find it for the PS3, Xbox 360 or PC at your nearest GameStop (www.gamestop.com), Toys N Joys (www.toysnjoys.com) or Best Buy (www.bestbuy.com). Visit www.streetfighter.com for more information on the game.
Most Recent Comment(s):