Kicking off football season with Madden NFL 09

By
.(JavaScript must be enabled to view this email address)
September 05, 2008
|
Share

Del.icio.us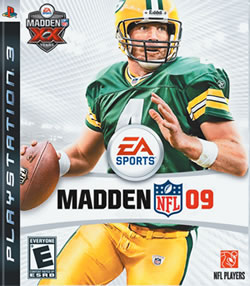 As a new football season kicks off, so does a new season of John Madden football. Electronic Arts' Madden NFL 09 marks the 20th anniversary of the most popular video game franchise on the planet. Who knew back then that Madden was the beginning of a global video game phenomenon?
You start off your Madden 09 gameplay with the Madden IQ Test.
It's a holographic training center that performs offensive and defensive drills consisting of running, passing, tackling and pass-coverage. The results are translated into your IQ score, which adjusts the game's difficulty level to your ability. If you don't feel up to it, you can opt to skip this test and receive the default score of 500 points to begin.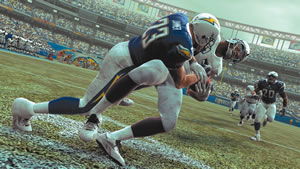 The big change in the game is hearing the voice of Cris Collinsworth as the commentator. Collinsworth's commentaries sound natural and are pretty accurate. You'll also hear Tom Hammond's voice give you various announcements throughout your games.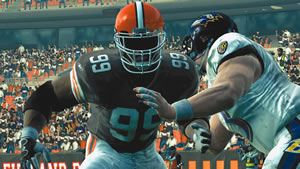 Collinsworth takes you through the new EA BackTrack feature and gives you customized feedback to learn from your mistakes. He'll break down certain plays and tell you what went right or wrong, and how to improve.
You can then take this knowledge and apply it to EA Rewind. This allows you to erase a play with your failed interception or fumble, and go back to replay it. What a cheater's delight! I'm sure you hard-core Madden fans will ignore it and keep moving on but, hey, it's nice to know it's doable.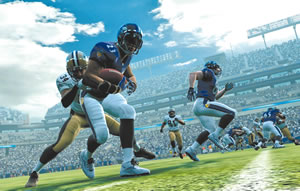 A huge request from Madden fans has been online leagues, which are now possible with Madden 09. With this full league experience, for the first time you can make a run for the postseason online. It features trades, statistical tracking for online leagues, and up to 32 teams can battle it out using the new flex scheduling. This online mode doesn't seem to be that great, but perhaps using your fantasy football team sort of will be of consolation.
If you've been a longtime fan of the Madden series, you'll recognize the Madden Challenge feature is back and updated. Re-live some of the more dramatic moments of the 2007 NFL season. It's helpful to place yourself in these situations to test your ability to react in the high-pressure situations. Of all the Maddens so far, this one is the best-looking. The camera angles, clarity of the shots and player emotions really add to the feel of the game. The stadiums don't look blurry anymore, you can see the rain and snow as if you're really in it, and the dirt on the players' uniforms is clearly visible.You can also play the fantasy football team you created with EA Sports Fantasy Football - that makes it interesting and keeps it different.
Madden 09 is available for the PS3, PlayStation 2, PlayStation Portable, Xbox 360, Nintendo Wii, Nintendo DS (prices range from $29.99 to $89.99). Find it at your nearest Best Buy (www.bestbuy.com), GameStop (www.gamestop.com), Toys N Joys (www.toysnjoys.com) or www.amazon.com.
Most Recent Comment(s):