Klipsch chopper, headphones and speaker

By
.(JavaScript must be enabled to view this email address)
January 25, 2008
|
Share

Del.icio.us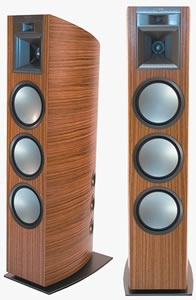 P-39F speakers
One of the more memorable parties I attended while at the recent Consumer Electronics Show (CES) was the one put on by the speaker company Klipsch.
With the busy schedule I had there, it was impossible to attend every interview or event I was invited to, and I have to admit the main reason I went to this one was because I love the TV show American Chopper. I was excited about the main attraction of this party - unveiling of the Klipsch Theme Bike built by the Orange County Chopper (OCC) guys (the stars of this popular TV show).
In October Klipsch commissioned OCC to build a speaker-inspired chopper to reflect the company's no-compromise audio legacy. A few months later here I am in Vegas watching Klipsch and the Teutul family - Paul Sr., Paul Jr. and Mikey - unveil this chopper to the world. The crowd cheered for them to start it up, but we didn't have such luck. Oh well, I'll have wait for the show to see the bike actually run. After the unveiling, we all just chilled out and watched the Robert Cray Band perform blues music. What a fun evening that was!
"We customize theme bikes for lots of different companies, but this one is second to none," said Paul Teutul Sr. "It really incorporates Klipsch's standards of high-performance, high-quality audio into a truly unique ride."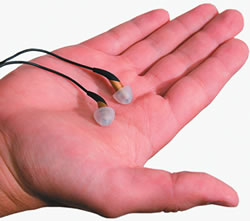 World's smallest headphones
The bike features Klipsch's signature black-and-copper color scheme, horn and woofer adornments and Klipsch logos on the air filter and black leather seat. The woofer comes from an RSX-5 bookshelf speaker, and the horns are from a Klipschorn (loudspeaker).
The partnership with Klipsch and OCC doesn't stop with this cool bike. OCC is currently building a new 92,000-square-foot headquarter facility in Newburgh, N.Y., and chose Klipsch as its preferred audio provider. From Paul Sr.'s new office to the retail shop to the gym, more than 100 Klipsch speakers will bring dynamic sound to the entire building.
In addition, Klipsch's main products featured at CES were the Klipsch Image headphones and the Palladium P-39F speakers. The Image, the world's smallest and lightest headphones, was selected as an Innovations 2008 Design and Engineering honoree in the headphone category. It uses special contour ear gels that are anatomically designed to accurately fit inside your ear canal. The soft, oval silicon tips reduce ear fatigue and provide a seal for noise isolation and increased bass response.
The Image is durable, and comes with 50-inch-long vinyl cables with strain relief at every cable connection point to help prevent wire damage. It comes with a carrying case, 1/4-inch adaptor, airline adaptor, five different sizes of ear gels and an ear gel cleaning tool. You can buy this for $349 at www.klipsch.com or on www.amazon.com.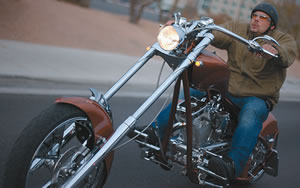 Photo by Keith Claytor
Next, the Palladium Series P-39F floorstander is the most expensive speaker that Klipsch has made in its history, and although it's beautiful and sounds good, its $15,000 price tag would put a nice big hole in my wallet. The P-39F is made with zebrawood veneer and available in natural, merlot and espresso. The side-firing ports increase the bass response, while the metallic finish mirrors the horn and driver trim rings. The adjustable aluminum floating base supports the cabinet at four points as opposed to the entire base area. These will begin shipping to select specialty retail outlets later this month. See www.klipsch.com for more information.
Stay tuned ... the episode of the Klipsch chopper build will air March 13 on TLC.
Most Recent Comment(s):