'Kung Fu Panda' for the Wii

By
.(JavaScript must be enabled to view this email address)
June 27, 2008
|
Share

Del.icio.us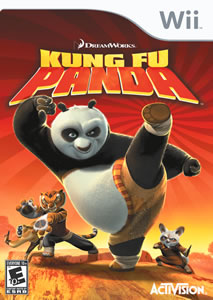 If you enjoyed the movie Kung Fu Panda that came out at the beginning of this month, you'll definitely enjoy Activision's Kung Fu Panda video game, too. Going through the game is almost as if you're reliving the movie's plot. You'll embark on an action-packed adventure as you master the kung fu fighting styles of Po the Panda (main character in the movie/game).
"Kung Fu Panda gives kids the chance to experience firsthand their favorite movie moments as well as new levels and hilarious situations created specifically for the game," says Kim Salzer, vice president of Global Brand Management, Activision Publishing. "The humor, lovable characters and nonstop action will deliver hours of fun that they can enjoy on their own or with parents and friends."
The game is available in various platforms, but I chose to play it with my Nintendo Wii.
As in the movie, you're on a legendary journey to fulfill Po's destiny to become the Dragon Warrior and save the world from the enemy Tai Lung. There are 13 levels that span air, water and land as you battle different foes, overcome obstacles and solve some puzzles. These levels feature both moments from the movie and scenes unique to the game.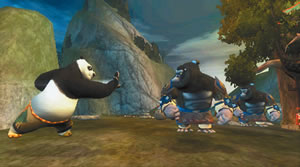 You use Po's natural features - his oversized tummy especially - to eliminate your enemies.You can do simple attacks by rolling him around or bounce enemies off his stomach and, of course, simple attacks and combos with kicks added in there, too. His "Panda Style" moves include the Panda Quake, Panda Stumble and the Iron Belly Blast.
You also can earn Kung Fu upgrades that increase your strength, speed and agility while progressing toward the Dragon Warrior status. In addition to Po's moves, you can master the styles of the other characters - Shifu (wisdom and speed), Monkey (spring-loaded tail attacks), Tigress (fast, fluid, powerful moves), Viper (stealth abilities), Crane (graceful surface-to-air attacks) and Mantis (the smallest but has a strong grab and super-quick burst moves). As you progress deeper into the game, you have to earn the privilege of playing these other characters. Additionally, you collect coins that can eventually earn you upgrades and food (manapua) that give you strength when you're weak after a battle.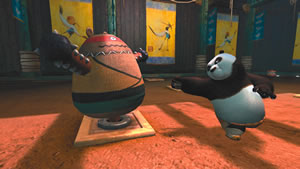 As Po would say, this game is "totally awesome," but definitely not for a serious gamer.
It's geared more toward KungFu Panda movie fans, especially the younger crowd. This whole-some, inspirational story of a character having a dream, not living up to the traditional fit for the role, but beating all odds and becoming the hero by believing in himself with some perseverance can be a great, positive, encouraging influence for the keiki.
To go through and finish the entire game will probably take about three to five hours, depending on how slow or fast you are. After you play once, you'll know where everything is and you can enjoy it all over again. The graphics are nothing spectacular, but very cutesy, matching the movie's feel. It's very entertaining and worthwhile to buy for your keiki (or the keiki within you).
The Kung Fu Panda video game is rated E10+ for Everyone over 10 years old and sells for $49.99 (PlayStation 3, Xbox 360, Nintendo Wii), $39.99 (PlayStation 2), $29.99 (Nintendo DS) or $19.99 (PC). Find it at your nearest GameStop (www.gamestop.com), Best Buy (www.bestbuy.com), or on www.amazon.com. For additional information on the game or to download a demo, visit www.kungfupandagame.com.
Most Recent Comment(s):