LEGO Batman: The Videogame

By
.(JavaScript must be enabled to view this email address)
October 10, 2008
|
Share

Del.icio.us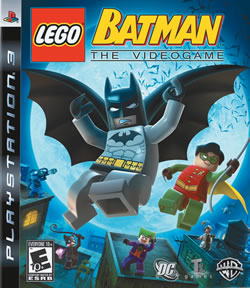 A couple weeks ago Warner Bros. and TT Games released LEGO Batman: The Videogame.
I was looking forward to this one for months. I love Batman and LEGO separately, so to put them together in a video game is a nice treat. The game is available for various platforms, but I played the PlayStation 3 (PS3) version.
LEGO Batman features a completely original storyline and encompasses the lighthearted charm of LEGO and the multifaceted lore of Gotham City.
In the game, Gotham City's most notorious criminals have broken out of Arkham Asylum and they're wreaking havoc on the city. You'll see some parodies of some famous scenes as you go through the game as Batman or Robin. Or, choose the dark side and take control of the various criminal characters - The Joker, The Penguin, Catwoman, Scarecrow, Killer Croc, The Riddler, Mr.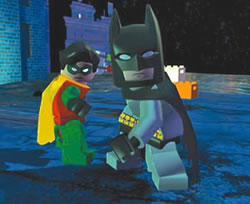 Freeze, Harley Quinn, Two Face, Bane, Clayface, Poison Ivy, Mad Hatter or Killer Moth.
You can put yourself behind the wheel of legendary vehicles, such as the Batmobile, Batboat or Batwing. Additionally, you can enhance the abilities of the Dynamic Duo by unlocking Batman and Robin's suits.
Batman's Glide Suit allows you to cross normally untraversable gaps and drops. The Sonic Suit shatters glass; Demolition Suit lays bombs/remotely detonates; and the Heat Protection Suit allows you to travel through heated areas and pick up red-hot pieces of LEGO.
Robin's suits include the Magnet Suit (attaches high-power magnets to the bottom of your boots to walk up metal surfaces), Water Suit (for swimming), Technology Suit (to access tech panels, allowing control of various robotic elements) and the Attract Suit (to pick up and collect small LEGO pieces). These suits are good to use and keep the gameplay fresh.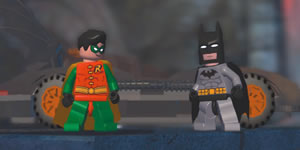 Playing a villain also keeps it interesting, since it's not very predictable and the vast amount of characters you can control keeps it moving along.
Your new characters become available to you via the Batcomputer, and you can buy them with LEGO studs as you progress through the Story Mode.
Collecting these LEGO studs and LEGO bricks throughout the game helps you unlock extra content including power-ups and bonus levels. All the characters you've unlocked are then there for you to play in the Freeplay Mode, where you can access previously hidden areas to find additional rewards and bonus content.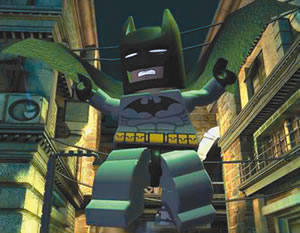 You can play it with co-op multiplayer, which allows for easy pick-up-and-play.
This is a game you should definitely play with a friend to maximize its fun factor. One of the funny things I noticed is that you can injure your co-op buddy even though you are on the same side.
Note that the co-op play is for offline play only. If you choose to go through it alone, however, it's a little annoying since the game's built-in AI companion just stands there and does nothing most of the time, so frustrating-ly you'll have to fend off all the enemies pretty much on your own.
The same goes for the puzzles. Sometimes you'll have to solve the puzzles by yourself as you're fighting off the enemies, as your AI pal just stands there and does nothing.
You'll hear Danny Elfman's iconic The Batman (1989) musical score throughout the game, and despite the little AI flaws and the characters' lack of speech, it's still a fun game.
LEGO Batman: The Videogame is rated "E10+" and is available for the Xbox 360, PS3 and Wii for $49.99. You can also buy it for the PlayStation 2, PSP, Nintendo DS and PC for $29.99. Find it at your nearest Toys n' Joys (www.toysnjoys.com), GameStop (www.gamestop.com), Best Buy (www.bestbuy.com) or Amazon (www.amazon.com).
Most Recent Comment(s):