Let's Help Get Hawaii Up To Speed

By
.(JavaScript must be enabled to view this email address)
March 10, 2010
|
Share

Del.icio.us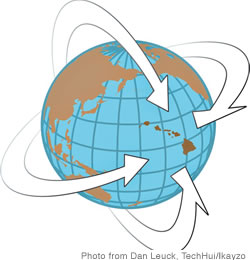 Compared to other places in the nation and around the world, Hawaii has some of the slowest Internet connection speeds. I had a perfect firsthand example of this on my last trip to Japan. The very slowest connection I received there was probably about the average speed I have at home. Even when I lived in Texas a few years ago, my Internet speed there was so much faster than what I have now. If you've traveled around, you probably can say the same thing about your speeds.
A possible remedy is an initiative called Gigabit Hawaii. This is a community based appeal for Google to make Hawaii one of the test locales for its recently announced ultra-fast broadband service. Local government has already made an official request. Google says a "level of community support" would be a deciding factor.
Reflecting on the economy, Dan Leuck of TechHui and Ikayzo says, "Being on the most isolated island chain on earth, the speed and quality of our connection to the Net directly impacts our ability to communicate, learn, educate and conduct business. Google's gigabit broadband initiative could help reinvigorate communities and businesses in an economic downturn."
If Google selects Hawaii, the state could reap the benefits in a multitude of ways. Several leading members of the local high-tech community drafted a multipoint support document and formatted a petition. Olin Lagon of Kanu Hawaii stated his support: "Unlike most parts of the U.S., our residents are separated by ocean. Enabling gigabit broadband directly into our communities could have a profound impact on better connecting our neighborhoods and islands as well as invigorating our challenged public educational system."
Here are some of the reasons stated on the petition why Hawaii is an ideal choice for Google's gigabit initiative:
* Hawaii's speeds are among the worst in the nation. According to the 2009 CWA report on Internet speeds (http://www.speedmatters.org), Hawaii ranks No. 47 in terms of average download speed.
* Hawaii is the most isolated and import-dependent state in the union.
* Hawaii represents a huge telemedicine test bed opportunity. We're the first state to offer online physician visits statewide - 700,000 HMSA members, or 54 percent of the state's population.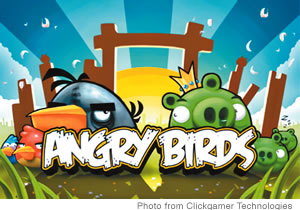 * Google has offices in 17 states but no Hawaii presence. It would be a great place for software engineers to escape the colder weather of Mainland winters, and one of the most inspiring places on earth.
Your help is needed to make this happen. Sign the petition online by March 15: http://www.techhui.com The goal is 50,000 signatures, so spread the word to all your family and friends. Links to resources and media on this effort are also available on the TechHui Web site.

Click Chick's iPhone App of the Week: Angry Birds
The name Angry Birds pretty much sums up my parrot's attitude these days, but there's nothing angry about this game app. It's addicting to launch various birds from a slingshot to hit green pigs. These pigs have stolen their eggs, and that is why these birds are angry.
The game consists of two worlds and more levels than many other game apps. The levels steadily increase in complexity as well as the capabilities of the angry birds you propel at the pigs. If you hit a pig with a bird or debris, he'll pop.
Once all the pigs are eliminated, you'll progress to the next level. You may need to use some strategies to pop all the pigs before you run out of birds to sling.
Angry Birds is fun, addictive and worth the 99 cents from the iTunes App Store.
Most Recent Comment(s):