Levana's Line Of Baby Monitors

By
.(JavaScript must be enabled to view this email address)
February 24, 2010
|
Share

Del.icio.us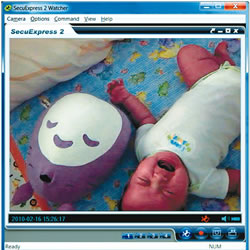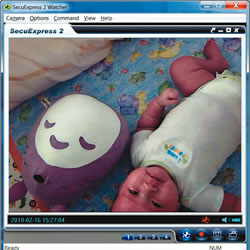 If you're a new parent-to-be, one of the things you probably added to your list of things to buy is a baby monitor. It's impossible for you to be with your baby 24/7, so a baby monitor lets you hear and/or see what your baby is up to if you're in another part of the house. You put a microphone or camera near your baby and you can listen/watch to his/her cooings, cries and movements.
While shopping around for a baby monitor, you'll find an overwhelming number to choose from. When I was pregnant, I knew that I wanted one that could show video and monitor for sound, but I didn't want to spend a ton of money. After a long search, I found the Levana BABYVIEW20. Then, in January at the Consumer Electronics Show, Mr. Click Chick discovered its new TWINKLE series, which was just released this month.
First off, I love our BABYVIEW20! It's so simple to use, the picture looks great and it was not expensive ($135 from Amazon). The system comes in two pieces: a camera and a monitor. The camera has a built-in microphone, night light, plays lullabies and has night vision capability (crib mount included). If you have it pointed at the crib most of the time, it's best to leave it plugged in, but when you want to move it around the house, it can also be powered by four AAA batteries (not included, powers up to 4.5 hours or 2 hours with night vision on). The night vision image is clear and easy to see.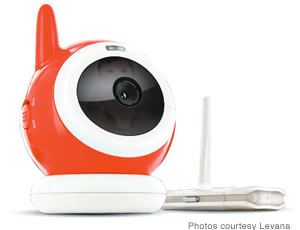 Levana TWINKLE
The monitor has a 2.36-inch color screen, built-in rechargeable battery (4.5 hours), and a range of up to 150 feet from the camera. Mostly the signal does-n't interfere with my other wireless devices, but I do notice occasionally my cell phone has a buzz when I have it running. To save power, you can set it to "Vox," which will only display the camera's picture when movement is detected. You can control the camera's lullabies from the monitor, and it's so small you can have it anywhere with you (especially convenient when in the kitchen cooking). This is an easy setup for even the most technologically challenged.
Levana's new TWINKLE is a little different, as it's not a direct baby monitor. Also very affordable ($125), it's a baby webcam that you can watch and control from your computer. The system consists of a camera and a USB dongle that needs to stay plugged into your computer. The camera specs are almost the same as the BABYVIEW20, including the ability to be powered by batteries.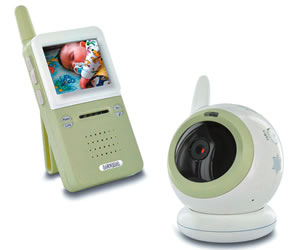 BABYVIEW 20
To see the camera's image, you need to install software on your PC (not compatible with a Mac) to configure the camera and install the USB dongle's driver. Once you do that, you can see your baby and set the camera to record and/or e-mail you when movement is detected (set the movement threshold high so you don't receive a billion e-mails from every little twitch). You can password protect your camera feed and watch up to four cameras running with the included software.
Additional cameras cost $84, but we were able to make it work with my MacBook Pro's built-in iSight camera. The TWINKLE is perfect for your relatives and friends to watch, and for you to monitor from your iPhone or other portable Internet-connected device. This setup is so affordable, keep in mind you could use it as your security camera, too. For more information or to buy both products, visit www.mylevana.com.

Click Chick's iPhone App of the Week: RealityCheck
If you're into reality TV shows but don't have time to watch them all, the RealityCheck app will help you track your favorite reality shows and give you nightly recaps and news right on your iPhone/iPod touch.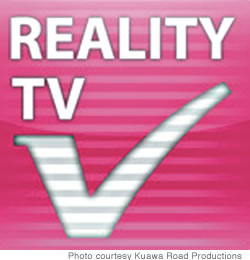 Developed locally in Hawaii by George Uno's Kuawa Road Productions, RealityCheck includes American Idol 2010, Amazing Race, Biggest Loser, Big Break Disney Golf, Launch My Line, Project Runway, Chef Academy, Dancing with the Stars, Survivor Samoa, The Bachelor, The Apprentice and Big Brother.
Each show on RealityCheck includes an episode summary, cast tracker (red X indicates elimination), archives of past episodes and cast/contestant biographies. Help support a great local-grown app - it's $1.99 at the iTunes App Store.
Most Recent Comment(s):