LiquidAUX Deluxe for iPhone and iPod

By
.(JavaScript must be enabled to view this email address)
September 19, 2008
|
Share

Del.icio.us
A useful product line I saw earlier this year that finally released is Kensington's LiquidAUX, a collection of car audio kits that use the auxiliary or AUX port (standard on most new cars) to give you pure sound from your iPhone or iPod through your car stereo.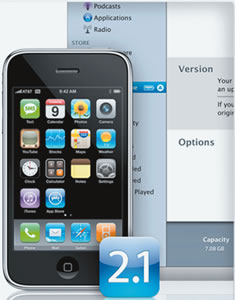 I had the pleasure of toying with the Kensington LiquidAUX Deluxe for iPhone and iPod, which was a finalist for iProng Magazine's Best of Show Award 2008.
"We design all of our products to deliver a Smart Made Simple user experience," says Kensington Global Product manager Kevin Ngo. "In the car environment, this means keeping your eyes on the road. Not only do our products deliver pure audio from an iPhone or iPod through the car stereo, but we also give consumers the ability to have full playback control of their tunes, all at their fingertips.
"And music phone owners gain this same experience with the addition of hands-free talking at the touch of a button. Imagine never having to take your phone out of your pocket or purse!"
Unfortunately, right out of the package, my LiquidAUX Deluxe broke. It's apparently not that common, and at least it cracked in a place that didn't matter too much. I can still functionally use it, so I just ignore the crack. The best feature of the LiquidAUX Deluxe is it charges your iPhone or iPod while you're in the car, and keeps your device at nearly eye-level. That's very important, especially if you're using your Google Maps feature trying to navigate your way around, or selecting your music to play in iTunes. It completely eliminates the distraction of having to look down at your iPhone/iPod.
The flexible arm allows you to bend it to your heart's desire, and the adjustable gooseneck/rotating cradle grasps your iPhone or iPod firmly so it won't fall out with the bumps along the road. It comes with a 2.4GHz wireless remote with an optional steering wheel mount. The 4-foot-long extension cable helps you reach your auxiliary port if it's far away from your power port, and it has a smart audio sensor for auto on/off power to conserve your car's battery.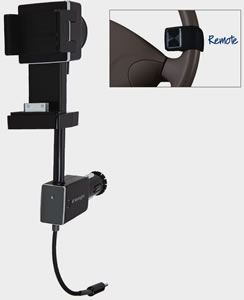 Note this is compatible with all iPhones and iPods with the dock connector (excluding the third generation iPod), and also the audio portion will not work if your car does not have an auxiliary port.
Find the LiquidAUX Deluxe for iPhone and iPod for $99.99 at your nearest Apple Store (http://www.apple.com), http://www.amazon.com or at us.kensington.com. Other LiquidAUX products available include the LiquidAUX for iPhone and iPod ($79.99), Bluetooth Car Kit ($99.99), Car Charger Deluxe for iPhone and iPod ($49.99) and Bluetooth Stereo Headphones with Microphone ($79.99).

iPhone 2.1 Software Update You may have heard about the various issues going on with the iPhone 3G since its launch. Personally, my biggest one is the lack of battery life (as mentioned above in LiquidAUX story), especially when the 3G capability is active. I usually see about four hours off one charge. This iPhone 2.1 Software Update is supposed to fix that and a whole list of other problems.
If you have an iPhone and did not update yet, I encourage you to do so - I've seen a significant difference in performance since I've updated. The first step is to make sure you have iTunes 8 installed on your computer, then make sure you have a minimum of an hour to download it all. You download the update through iTunes 8, and here's what's included:
* Decrease in call setup failures and dropped calls
* Significantly better battery life for most users
* Dramatically reduced time to backup to iTunes
* Improved e-mail reliability, notably fetching e-mail from POP and Exchange accounts
* Faster installation of third-party applications
* Fixed bugs causing hangs and crashes for users with lots of third-party applications
* Improved performance in text messaging
* Faster loading and searching of contacts
* Improved accuracy of the 3G signal strength display
* Repeat alert up to two additional times for incoming text messages
* Option to wipe data after 10 failed passcode attempts
* Genius playlist creation
Hopefully this free update helps your iPhone 3G run more smoothly, as it did for me.
Most Recent Comment(s):