Living Out On The EDGE

By
.(JavaScript must be enabled to view this email address)
November 11, 2005
|
Share

Del.icio.us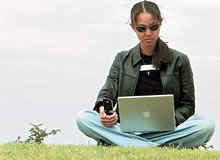 When I'm on the road, it's sweet to have Internet access almost anytime I need it. With my cell phone, I've been using General Packet Radio Service (GPRS) over Bluetooth, which is equivalent to a speed of approximately 56K. It's great when there's absolutely no hotspot and nothing to connect to, but the slow speed definitely takes me back to the ghetto days of dial-up Internet access. Cingular and T-Mobile both recently introduced their EDGE technology for mobile access that I'll have to try. Faster is always better!
EDGE stands for Enhanced Data for Global Evolution and is a global standard for wide-area data communication. It is a technology that delivers broadband-like data speeds to mobile devices, and is spreading rapidly across the globe. It is three times faster than the current GPRS technology I'm using now with my phone. It reaches burst speeds of up to 200 kilobits per second (Kbps) with an average download speed of 70-135 Kbps.
That basically means that you can load a webpage (especially the ones with lots of pictures) much faster, or send bigger e-mail attachments without having to take a nap while you're waiting. In comparison, high speed with Oceanic's Road Runner has a download speed of 5,000 Kbps and an upload speed of 384 Kbps. Quite a difference, but the EDGE still much, much faster than plain old GPRS.
You can use EDGE with various devices: enhanced data phones, Windows mobile smart-phones, integrated PDAs or PC card modems. I personally will probably try the black RAZR V3
(with Bluetooth for the wireless freedom) for this purpose. I have the silver RAZR
, but I'm so sad that it doesn't support EDGE!
Cingular offers its EDGE service in more than 13,000 U.S. cities and towns and more than 39,000 miles on highways. Through its
GPRS roaming partners, Cingular's network coverage includes an area of nearly 268 million users. Basically, if you can get a signal, it will work. International EDGE and GPRS roaming is also available in more than 80 countries. If you already have a data plan with Cingular and an EDGE capable phone, it should already work for you.
As of September, T-Mobile's EDGE services are available across 90 percent of its GPRS-enabled network. If you have an EDGE-enabled device you can already use it with your T-Mobile data plan. If you don't have a phone or device yet, they are not yet selling the EDGE-enabled phones, so you'll have to wait a little while or find something on e-Bay.
EDGE is definitely not for everyone, but is excellent for mobile people like me who are traveling all the time or out on the road. Check out www.cingular.com or www.tmobile.com for more information.
Experiencing A World of Wireless At Home. With all the work I do from home, I am on the phone quite a bit. If I had a landline in addition to my cell phone, I think it would be great to have them both integrated into one device.
This is actually possible with Uniden's latest ELBT595
phone.
I would classify the ELBT595
as an extremely flexible home or home/office phone. It's nothing like I've ever seen before since it integrates your landline phone and cellular phone together into a single handset using Bluetooth technology. You don't have to worry about listening for two different phones ringing with this.
All you need to do to make it work properly is pair the ELBT595
phone via Bluetooth with your cell phone.
It works with most
Bluetooth capable phones, but unfortunately does not work with all. The clarity of your connection will depend on whether or not you have a strong Bluetooth link with your base station.
The ELBT595
allows you to receive and make phone calls up to 150 feet away from the base station. You can wander around the house or possibly outside in the yard without having to worry about a cord. If you want to become a true wireless king/queen you can even pair a Bluetooth headset to the phone. If you do this, you'll have to keep the handset a maximum of 15 feet away from you because of the Bluetooth range. If you want to, you can even use the phone as a baby monitor or intercom.
It comes with a speakerphone and answering machine base station that plugs into your analog line, and it has a 5.8 GhZ cordless flip-style handset. If you want to get really serious, you can purchase and connect up to 10 handsets to a single base station. The flip-style handset looks like a cell phone and has many of the same features that a typical cell phone would have such as the ability to load your contact information from Microsoft Outlook.
You can plug the phone right into your PC with an included USB cable and program the options on your phone with a easy-to-use windowed interface.
The Uniden ELBT595
is a neat device to have for the home, but fairly pricey. If you're completely adamant about converging your two phones together, this could be a good purchase for you. It is available for $250
Most Recent Comment(s):