LocoRoco Bounces To Your PSP

By
.(JavaScript must be enabled to view this email address)
September 13, 2006
|
Share

Del.icio.us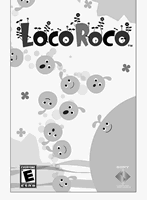 At the recent Electronic Entertainment Expo (E3) this year, one of my favorite games in the Sony area (and E3 as a whole) was LocoRoco.
It actually won multiple awards at E3, and it's a very cute game exclusively for the PlayStation Portable (PSP) that is easy to master and play. This is excellent for any age level, and helps pass the time when you have a lot of it to spare. My PSP, and LocoRoco in particular, kept me sane when I was stuck in traffic driving home for nearly six hours last week with that nasty freeway closure.
LocoRoco was developed by Sony Computer Entertainment Japan and is an innovative 2D platform/action game. You are a little yellow blob called a LocoRoco, and the story goes through the peaceful world of your LocoRoco being under attack by the evil Moja Corps. These wicked outer space creatures want nothing but to capture your blissful LocoRoco and take them from their land of blowing flowers, lively creatures and pastel scenery. To prevent your LocoRoco from danger, you take over the planet by tilting the land, rolling and bouncing the LocoRoco to safety.
You use mostly the "L" and "R" shoulder buttons for control - these tilt the land back and forth, depending on the direction you want your LocoRoco to bounce/tilt/bump. With more than 40 stages, you control and guide your LocoRoco through the vibrant and lush worlds filled with slippery slopes, swing ropes and more. There are six types of LocoRoco that include their own voices and actions.
As you guide your LocoRoco through the planet, you listen to the game's light-hearted, charming music while you eat flowers and fruits and become fatter and fatter. If you're too fat to fit in between crevices or small paths, you can break up into smaller dudes, and come back together into one big guy after you made your way through. You can become a maximum of 20 big (there's an indicator in the top left of your screen to tell you how many you're worth). Being that large is actually your goal on each level, if you're looking for a perfect score. However, you'll sometimes need to find hidden areas to accomplish this. If you're a perfectionist like me, you have the option of playing the levels over and over again until you score the coveted 20 out of 20. Throughout the game you'll also collect various items that can be used to build your own Loco House.
If you want to share the game with your friends, at any point in the game you can take a picture of your screen(s) with the simple press of the SELECT button. It will then give you the option of saving it to your Memory Stick Duo. You can also do game sharing and transfer up to two different LocoRoco stages to a friend via your PSP's Game Sharing facility. Your buddy is not required to have the LocoRoco game inserted into his/her PSP, and it will not affect you as a host while you continue to use your PSP.
LocoRoco is rated "E" for Everyone and is available for $39.99 if you bounce your way to Shirokiya, the nearest CompUSA or GameStop. Before you pop the game disk into your PSP, make sure it is updated to system software version 2.71 or later, otherwise it will not work. Additionally, visit the game's site at http://www.locoroco.com to download a playable demo, screenshots or desktop backgrounds for your computer.
Most Recent Comment(s):