Logitech's Harmony One Remote

By
.(JavaScript must be enabled to view this email address)
June 04, 2008
|
Share

Del.icio.us
Although I wasn't able to spend more than a minute with it at this year's Consumer Electronics Show (CES) because of the huge crowd, one of my favorite items was Logitech's Harmony One Advanced Universal Remote. After all, it did win the CES 2008 Design and Engineering Award: Best of Innovations in Home Entertainment Accessories. Thankfully I was able to hog one for myself for the last couple of weeks and program it to function with my TV, PVR, Apple TV, PlayStation 3, etc.
"The Harmony advanced universal remotes have been highly successful at providing easy, one-touch access to favorite activities, such as watching TV, playing a video game or listening to music - all with a single remote," said Ashish Arora, vice president and general manager of Logitech's Harmony business unit. "To further improve our lineup, while developing Harmony One, we sought to intimately understand the interaction between people, their remotes and their entertainment systems. In fact, Harmony One is the result of our most comprehensive research and development undertaking ever - more than 20,000 hours."
All this hard work is reflected in the remote's ergonomic design and physical look. No matter how big or small your hands are, left- or right-handed, the remote will fit comfortably in your hand. The shape is so unique you'll barely need to look down to control it. Only the 40 most-essential buttons are on the Harmony One, so you can find the right one quickly. Each is individually sculpted, providing useful cues so you can operate it by touch instead of sight.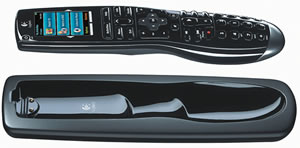 As with some of Logitech's other remotes, this has a motion sensor that automatically turns on the LCD screen when you pick up the remote. It also shuts off automatically for energy conservation. The included charging cradle is much more reliable than previous models, where there seemed to be something wrong with the charging contacts. With the Harmony One I haven't seen any issues yet. On a full battery charge it will probably last you about a week to week-and-a-half.
I've been testing this out for about two weeks now and I haven't had to charge it yet.
Another major thing I noticed is the 2.2-inch color LCD touch screen. It's a huge upgrade over previous models, especially with its two glowing touch-sensitive buttons on both sides that allow you to scroll between the screens of soft (touch) buttons (i.e. options, devices or activities). The image display is sharp and responsive to your touch, using Logitech's capacitive touch-screen technology. It responds to electrical charges from your fingertips, not pressure.
A single Harmony One can replace up to 15 remotes. With Logitech's database (updated almost daily), you can control more than 225,000 devices from more than 5,000 brands. In other words, just about any home entertainment device can be controlled with this little remote.
Programming it is very simple and not at all time-consuming. You plug it in to your computer - make sure you have a good Internet connection - answer an online questionnaire and choose your home theater components from a list. You then define the roles in activity-based functions. I have mine programmed to "PlayStation 3," "Digital Cable DVR" and "Apple TV" (in that order) and they're displayed on the touch screen. For the average user, you'll most likely see it as "Watch TV," Watch A DVD" or "Harmony One Advanced Universal remote."
Harmony One is definitely the best latest universal remote out there on the market today. Aslight drawback is that it only does the IR frequency. It's not a big deal, but other high-end remotes I've seen have RF capability.
Harmony One is compatible with both Windows and Mac OS X, and retails for $249.99. Find it on Logitech's website at www.logitech.com, your nearest Best Buy (www.bestbuy.com), or www.amazon.com.
Most Recent Comment(s):