Look, Ma, No Hands - I'm Typing

By
.(JavaScript must be enabled to view this email address)
January 28, 2009
|
Share

Del.icio.us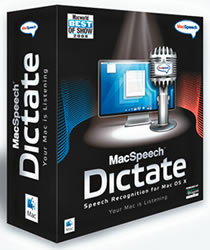 MacSpeech Dictate first came out at last year's Macworld , but I never did have the opportunity to test it out.
Well, I'm testing it out right now as I am "writing" this. I have the headset on, the microphone is close to my mouth and my hands are not even touching my keyboard. This is an awesome way to do my writing!
"MacSpeech Dictate empowers Mac users to create documents with their voice instead of typing," explains Andrew Taylor, president and CEO of MacSpeech Inc. "MacSpeech Dictate delivers fast setup, quick command recognition, high accuracy and increased productivity even for those using MacSpeech Dictate simply to make their life easier."
Setting up MacSpeech Dictate is quick and simple. The program takes you through a few screens and has you read off multiple paragraphs so it can become acquainted with your voice. During this process, it's best to make sure the microphone is relatively close to your mouth and that you use a natural voice while speaking clearly and continuously.
I noticed the program has a difficult time recognizing certain words, so they won't come out the way you want (such as Hawaiian words or contractions). It won't help to yell into the microphone because you'll just keep seeing your wrong word appear over and over again.
The instructions say you're not supposed to alternate between dictating and typing, as it may lead to unexpected behavior from MacSpeech Dictate, but I did it on and off throughout this story to fix the inconsistent words and a few spacing issues. Otherwise, I hardly had to touch the keyboard to write this. Even deleting words is easy - all you need to say is "scratch that" or "forget that" and it deletes the last phrase you stated.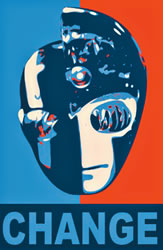 I'm enjoying the fact that MacSpeech Dictate talks to all of the programs I have loaded on my computer. I can use it with iChat, Storyist (the book-writing software) and, of course, Microsoft Word, which is what I am using to "write" this. A menu appears on the right side of your desktop and you can choose what program you need MacSpeech Dictate to work with.
I can see this being extremely helpful for individuals struggling with carpal tunnel syndrome since you don't have to use your keyboard.
There are other speech-recognition programs out there, but MacSpeech Dictate is the most intuitive one I've seen. Using this program, it took me half the time as usual to write my column. This is definitely a time-saving winner for all of my writing projects.
MacSpeech Dictate costs $199 and you can find it at your nearest Apple Store (www.apple.com) or online at Amazon.com. Obamaize Yourself
I found this website last week, a day before the inauguration, and it's a fun way to take advantage of that famous Obama poster we've all seen. This fun website, courtesy of Paste Magazine, lets you make your own "Obamicon" Obama poster (with a customized message).
You can either use a webcam or upload a picture of your own. I experimented with many of my pictures, but I love the one my husband did of Kikaida (pictured here).
See it at: obamiconme.pastemagazine.com to be your own Obama poster.
Most Recent Comment(s):