Lullabelly: Music For Babies In The Womb

By
.(JavaScript must be enabled to view this email address)
March 31, 2010
|
Share

Del.icio.us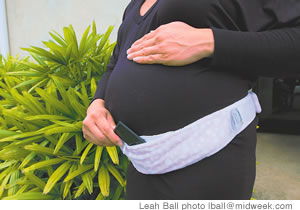 Playing music to your pregnant belly can be beneficial to both you and your unborn keiki. Music can help you relax, fall asleep or put you in a better mood if you have the pregnancy blues. When I was pregnant last year, I would put earphones around my stomach every night to play music for my daughter. My husband even sang songs to my belly while playing his guitar. It's just too bad I didn't know about the Lullabelly back then.
This Lullabelly Prenatal Music Belt is the modern way to safely and comfortably play music, lullabies, audio books, voice recordings or whatever you choose for your unborn baby. This device is easy to use - just plug in any music player (i.e. iPhone, iPod touch or CD player).
It comes with a dual adapter and earphones so you can listen to what your baby is hearing.
Since I'm no longer pregnant, I asked the expecting MidWeek managing editor Yu Shing Ting to try out the Lullabelly for me.
"I tested the Lullabelly while at home this weekend and it was very easy to use (a huge plus for someone like me who is not good with techy stuff)," she says. "I wore it while I did laundry, cooked and watched TV. It was very comfortable, and I didn't even really feel it on. I just had to remind myself to take it off after an hour because the instructions suggested use of no more than one hour at a time and limited to two to three times per day."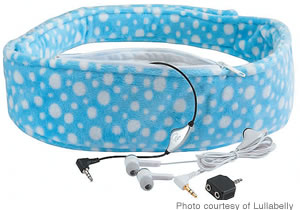 The Lullabelly uses safe sound levels so that the maximum volume is similar to you or your other half speaking or singing aloud. The speaker has a built-in volume control dial so when you use the dual adapter, you can separately control the volume of your earphones and the volume of the music playing to your baby. The Lullabelly is soft, adjustable, lightweight and machine-washable. It also comes with a large front pocket, ideal for carrying small accessories or your mp3 player.
Remember that playing music during pregnancy helps reduce your stress levels, and could encourage development of language and memory skills, which lays the foundation for your baby's learning abilities. Listening to music also may improve your baby's sleep habits after birth. I can say that my daughter sleeps through the night, and has done so since she was born, but there's no proof if it's from the music or not. Maybe we're just blessed with a good baby!
The Lullabelly comes in sky blue, apple green, pink, chocolate and yellow. Find it online at lullabelly.com or at amazon.com for $55.
Most Recent Comment(s):