Madden NFL 10 Is Good Football

By
.(JavaScript must be enabled to view this email address)
August 26, 2009
|
Share

Del.icio.us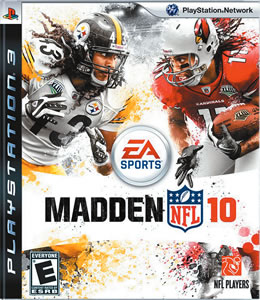 I always know the summer is coming to a close and football season is about to kick off when a new Madden video game comes out. Now is that time of year as Electronic Arts'Madden NFL 10 just released. All new Madden games include a few features that set them apart from the previous release, and Madden NFL 10 keeps that tradition alive.
The first thing I noticed was the details - it's the best-looking Madden game that I've seen to date. From the way the players look on the field to things you see in the background, this is as close as you'll come to playing a real game of football with a video game. You'll see players getting yelled at on the sidelines, referees debating touchdown calls and pre-game warm-ups on the field with commentaries from Tom Hammond and Chris Colinsworth.
Other main attractions of Madden NFL 10 include Pro-Tak, Fight for Online Dominance and Online Co-op. The Pro-Tak System is basically for better gang tackles. It gives you control over the outcome of every play. You can drag defenders toward the first down marker, including up to nine-man gang tackles, fight for a fumble at the bottom of the pile, and evade the rush with all-new quarterback avoidance actions.
The Online Dominance mode lets you compete with up to 32 teams in an online franchise. You can propose trades, draft players and even do a fantasy draft. You can also do real NFL scheduling and have access to league message boards. It also is controllable from your computer - and soon an iPhone app.
A first for Madden, the Online Co-op trait allows you to team with a friend and battle against the CPU. This makes it easy for you to work on your game strategies, practice plays and see how it is playing from a different position with custom camera angles.
In addition, the interactive Fight For the Fumble makes a loose ball beneath the pile live as you fight for the fumble through a new rapid-button-press mini-game. Mash the button displayed on the meter to battle for possession of the ball. There's also a quarterback pressure alert, and your controller will warn you with a rumble when a defender is near you while your quarterback is in the pocket.
Overall, Madden NFL 10 packs in a ton of good football to start you off this season. The graphics and the look of the game are a nice step forward from Madden 09. The game's improvements mentioned above make the game attractive, but there's nothing too massive that would reshape the title. It's still a good football game that I had a difficult time wrestling away from my husband.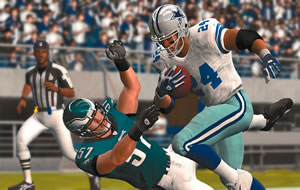 Madden NFL 10 retails for $59.99/PlayStation and Xbox 360; $49.99/Wii; $39.99/PlayStation 2 and PlayStation Portable (PSP). Visit your nearest Best Buy (bestbuy.com), GameStop (gamestop.com) or Toys N Joys (toysnjoys.com) to buy a copy of your own.

Click Chick's iPhone App of the Week: Camera Genius
The recently released Camera Genius app gives your iPhone camera the capability it should have had from the beginning. Just about all the missing features I would want to see in Apple's real camera app are a part of Camera Genius. It includes Camera Zoom, Sound Capture, Anti-Shake, Big Button, Guides, Self Timer and Camera Manual.
The zoom is pretty self-explanatory, but the Sound Capture isn't what you probably think it is. It snaps a picture when the noise it hears reaches a certain level (i.e. say "cheese!" really loud and it snaps your picture).
Anti-Shake is good for restless keiki or pets. Big Button turns the whole screen into a shutter release button. Guides helps you level your pics against the horizon.
Self Timer gives you the option to do two, five, 10, 15 or 30-second timer options. Lastly, Camera Manual gives you a quick reference guide of photography right there within the app.
Camera Genius is worth the nominal 99 cents. Find it at the iTunes App Store or visit www.codegoo.com for more information.
Most Recent Comment(s):