Mahalo For Human Web Guides

By
.(JavaScript must be enabled to view this email address)
June 13, 2007
|
Share

Del.icio.us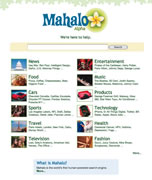 Living in Hawaii, mahalo is a word we all know and love, and probably use every day. This latest mahalo isn't what you think. I'm not writing about an airline or the word itself, but about a new website search engine that launched a couple of weeks ago.
Sure, there are tons of search engines you can use, but this one caught my attention purely for its name.
What makes Mahalo.com different from Google or Yahoo! is that it operates using human labor. In other words, Mahalo's employees, referred to as Guides, manually dig through the Internet to look for quality sites. They weed out spam sites, pages with deceptive or overbearing advertising, and sites that repeat information with no source/have an unknown origin.
Of course humans cannot possibly create as many search results as a machine (or go as deep), but we can create better, personalized results. The Guides use Google, Yahoo!, Ask, MSN, Flickr., Delicious and other services to handcraft for you the cleanest possible spam-free search engine results page (SERP). Currently the site can deliver results for 4,000 of the most popular search terms. By the end of the year, Mahalo hopes to raise that to 10,000.
When I first heard about Mahalo.com, I thought it was created here in Hawaii, but it was actually launched by a young serial entrepreneur, Jason McCabe Calacanis, along with a group of investors that include Sequoia Capital, Elon Musk (founder of SpaceX, co-founder of PayPal and chairman of Tesla Motors), NewsCorp, CBS Corporation, Hubert Burda Media, Allen & Co., David Bradley, Gigi Brisson, Sandy Climan, Mark Cuban, Matt Coffin, Ted Leonsis, Jonathan Miller, Mark Pincus, Ryan Scott and Fred Wilson.
Calacanis'stated Mahalo mission is plain and simple: "To help people - a lot.
"We want to help people find what they're looking for and discover cool things they weren't looking for," he says. "We want to create the best search results available on the Web for the most common search terms. Now, we know we can't hand-write all of the search terms in the world, but we can do the most common ones, and that will help people ... a lot!"
The site is focused on the top English-language search terms - travel, products, news, entertainment, sports, food and health. "Google's mission is to index the world's information; our mission is to curate that wonderful index," says
Calacanis. "It's my belief that humans can play a significant role in the development of search results, and we're going to try to figure out exactly what that role is over the next couple of years. I am really looking forward to hearing what people think of the Alpha (the version that Mahalo is currently on)," he adds.
The Guide's Choice symbol is a cute shaka sign to show that one of the Guides really likes the link. If you hover over shaka with your mouse for a while, it tells you what Guide recommended it and why. The exclamation mark symbol indicates a warning, and the question mark icon is placed next to sources that may not be familiar. It's fairly straightforward.
What I admire about Mahalo is that since it does use the human factor, you will not generally see annoying sites that are filled with ads or phishing. It also only goes to websites that have been operating for at least one year, have a clean layout with a decent amount of ads, or sites that are considered authorities in their field.
To experience this new form of mahalo, check out www.mahalo.com.
Most Recent Comment(s):