Making a case for protecting your gadgets

By
.(JavaScript must be enabled to view this email address)
February 01, 2008
|
Share

Del.icio.us
Chances are you own a gadget of some sort. Hopefully you care about it enough to want to protect it with a case or covering. The options available are overwhelming, and I'm not going to go into them all, but here are a few that caught my eye at this year's Consumer Electronics Show (CES) and Macworld.
Golla, a company from Finland, initially launched in 2003 and has been a hit in Europe, recently released its 2008 line of eye-catching bags at CES. The colorful collection includes six categories of mobile bags, music bags, digi bags, laptop bags, laptop sleeves and laptop backpacks.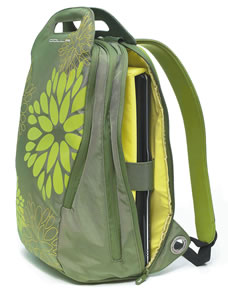 "Our main 2008 collection will include many novelties," says Piia Haapalainen, Golla's head of design."We have dreamed up two new bag categories for laptops: sleeves and backpacks. Sleeves come in three sizes. With its slim and casual design, our laptop backpack is perfect for the urban people. In addition, laptop bags will be available in two sizes - both for 13-inch and 15-inch laptops."
Personally, I played with the laptop sleeve (pictured here). It made carrying my MacBook Pro on short trips to Starbucks convenient. Since it's a sleeve, there's no room to carry my power cord, but there is a small pocket on the outside into which you can slip small items (i.e. CDs, DVDs, USB or FireWire cables). As far as protection, along with Golla's other products, the sleeve is lined with a black padding that will protect it from bumps.
Find Golla's products at The Sharper Image (www.sharperimage.com), AT&T stores or T-Mobile stores (and Target when it opens here). Log onto www.golla.com to see the full product line.
I saw Speck at last year's Macworld, but this year it's back with more colors for the Apple MacBook/MacBook Pro and options for the new generation Apple iPod nanos, classics, shuffles and iPhone. For the past year, my trusty See Thru blue, hard-plastic MacBook Pro Speck case has kept my machine scratch- and dent-free. Now I also have nice, red SeeThru cases for my iPod touch and iPhone for trustworthy protection (see picture).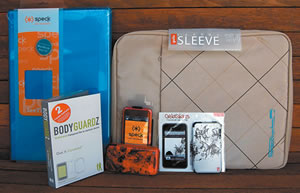 Addition-ally, I have an aqua-colored case to put on my MacBook Pro (also pictured), and one of my lucky friends will inherit my still-in- good-condition blue case. Prices vary depending on what type of case you buy (my aqua case goes for $49.95, and the iPhone/iPod touch cases are $29.95). Log onto www.speck.com to see the full selection or to purchase. These also are available at your nearest Apple Store (www.apple.com).
If you choose not to have a case around your device, you can use a skin. Gelaskins makes unique-looking designs that use artwork from a wide variety of artists. I enjoy the distinctive style of these Gelaskins designs. They range from anime to modern to Vincent van Gogh.
The skins are manufactured from a 3M vinyl material and will stick to your iPod/iPhone without any residue or damage when you remove it. The skin is easy to apply, but you need to make sure it's aligned straight as you're putting it on. With the first attempt at putting on my Gelaskin, it came out just a little bit crooked, but I could easily peel it off, straighten it out and re-apply it with no problem.
I've seen Gelaskins before, but new designs and sizes were announced for the iPod touch, classic, third-generation nano and iPhone. In addition, you can find Gelaskins for various types of Mac and PC laptops. The iPod/iPhone skins are $14.95, and the laptop ones go for $29.95 at www.gelaskins.com.
Previous to this year's Macworld I had not heard of BodyGuardz, and I saw it for the first time as I was walking past its booth. This year it introduced a transparent, scratch-proof skin for the iPhone and line of new iPods and Macbooks.
If you prefer a simple, clear protective covering for your gadget, BodyGuardz is perfect for you. Attaching a BodyGuardz skin onto your gadget takes a little more effort than the Gelaskin. It comes with an application spray and a squeegee to flatten out all the bubbles that may be stuck in between.
Some people I know will probably be confused at this, and if that's you, too, don't worry, there's a video on its website you can watch to follow the steps. If you take off your BodyGuardz, it does not leave behind a residue, but you won't be able to put it back on. However, each box comes with two.
BodyGuardz protects multiple products - see www.bodyguardz.com for the full list of products and prices.
Most Recent Comment(s):