Making a really good case for Speck

By
.(JavaScript must be enabled to view this email address)
March 09, 2007
|
Share

Del.icio.us
I bring you more news from my journey to MacWorld - some of you probably think this is so boring, but I saw countless types of cases there. Just about anything you can think of to fit your iPods and Mac notebooks. To satisfy the load of you asking me what the best cases are, and where to buy them, this is for you.
MacBook/MacBook Pro Cases.
As far as cases go, Speck had my favorite collection there at MacWorld, especially since they had one that would fit perfectly around my MacBook Pro. I was able to acquire the MacWorld 2007 15-inch limited edition SeeThru blue case (shown in picture), and I can't tell you enough how much I love that thing! It completely protects my MacBook Pro from scratches, and everyone keeps asking me where to buy one (not to mention that my husband is jealous of my pretty blue case).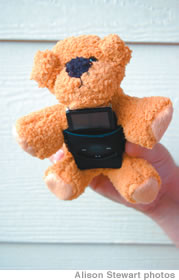 iPod Dog
It's a two-piece protective hard shell made out of polycarbonate plastic that you snap onto your computer. It has all the pukas in the right places for your network/peripheral connections, 74 slots for ventilation to minimize thermal insulation, and rubber feet on the bottom to prevent slipping on slick surfaces. You can buy these cases in black, clear or red for the 15-inch MacBook Pro or in clear, red or blue for the 13-inch MacBook. It will cost you $49.95 from www.speckproducts.com or at your closest Apple Store (www.apple.com).
iPod Cases. iPod cases are a toughie. There are so many to choose from that it's difficult to suggest which to purchase. After walking around a crowded show floor for a few hours, and being exhausted, everything looks the same. But, as a kid at heart I'm such a sucker for stuffed animals, so these "little dude" (as I like to call them) iPod cases were calling my name as my husband was trying to pull me away from them. Pod Pack Designs makes these exclusively for the iPod nano with a zippered pouch in the back to stash your earphones (or keys) along with a clasp to hook it onto your purse or belt. You can find the dudes on www.podpackdesigns.com for $12.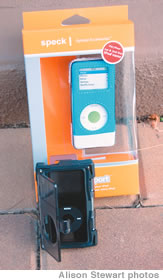 iPod Speck
For conventional iPod cases, Speck has good picks ranging from ones that go around your arm to the tough ones made out of sturdy plastic. To view Speck's entire selection, log onto its website mentioned above.
As with the MacBook cases, you can purchase its iPod line at your closest Apple Store or on the website.
Mophie had nice, sturdy cases too, but the thing that really caught my attention about its booth is the fact that it turned into a live "creation lab." The 30,000 MacWorld attendees were invited to create a product that best fit their needs, but instead of just one idea, three items won. For those with a second-generation iPod shuffle, the Bevy is a keychain-bottle opener case around which you can also wrap your headphone cord.
It will be available later this month for $15. The Schlep (available April 2007, $30) is for those of you planning to buy an iPhone or already have an iPod video. Along with your beloved gadget, It holds your money, credit cards and attaches to any shoulder strap. Lastly, the Montage is a digital picture frame, alarm clock, stereo system - and you can watch your widescreen videos. It will work for the second-generation iPod nanos and fifth-generation iPod videos (no price or date announced yet). Check out the entire selection at www.mophie.com.
Finally, I have to mention Marware. The first iPod case I ever owned was made by Marware. It was an armband for the very first generation iPod, also known as my brick (or as someone commented once as I was running - a nice heart monitor). Anyway, as one of the pioneers in iPod cases, Marware has a decent selection. Check it out at www.marware.com.
Whether you're looking for something cute or something practical, there's a perfect iPod case for everyone.
Most Recent Comment(s):