Making A Video With Animoto

By
.(JavaScript must be enabled to view this email address)
April 29, 2009
|
Share

Del.icio.us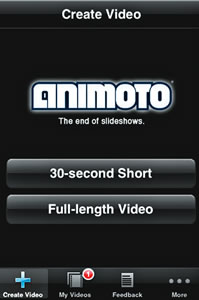 Thanks to MidWeek's creative director Gina Lambert, I just learned about the video creation platform Animoto. It actually launched a couple of years ago, but a few weeks ago it was nominated in the category Best in Services and Applications in the 13th annual Webby awards. Hailed as the "Internet's highest honor" by the New York Times, The Webby Awards is the leading international award honoring excellence on the Internet.
"Nominees like Animoto are setting the standard for innovation and creativity on the Internet," said David-Michel Davies, executive director of the Webby Awards. "It is an incredible achievement to be selected among the best from the nearly 10,000 entries we received this year."
Animoto lets you create dynamic, professional-quality videos online from your own photos and music. The heart of Animoto is its Cinematic Artificial Intelligence technology that is programmed to think as a director and editor using the same sophisticated post-production skills and techniques that are used in television and film.
The technology takes into account every nuance of a song: the genre, song structure, energy, rhythm, instrumentation and vocals. Videos are produced in widescreen format and can be e-mailed or embedded on websites and social networks, shared on mobile devices, and downloaded in DVD-quality formats for display on computers, televisions or large projection screens.
Using the website can't really be any easier. It's as simple as: upload your pictures, pick a song from either your library or Animoto's collection, and click. Voila, you have a slideshow! You then have the option to remix it, upgrade the quality, send it off via e-mail or to YouTube and more.
Interestingly, the founders of Animoto Productions include veterans of the entertainment industry who share a passion for helping people better share their stories and express themselves through online media. They seek to bridge the gap between high production value inherent in film and television, and the "more amateur" feeling of most user-created Internet videos we see out there today.
Sign-up for your free Animoto account at www.animoto.com. Also, note the Webby Awards is presented by the International Academy of Digital Arts and Sciences, and you still have a chance to vote for Animoto if you enjoy it as much as I do (but you have to vote by April 30!): http://pv.webbyawards.com. The winners will be announced on May 5.
Click Chick's iPhone App of the Week: Animoto
The Animoto iPhone app was initially introduced in late December 2008, and in less than two weeks became a Top Free App in the Photography category. Similar to the web version, the app automatically turns your iPhone photos into high-quality, professional-style music videos that capture the immediate onthespot energy of your events, travel and other memorable moments. Once you create your videos with the app, they can be shared and watched both on the iPhone and a regular web browser.
"The iPhone is the perfect mobile device for viewing and sharing an Animoto video," said Brad Jefferson, CEO & Co-founder of Animoto. "The Animoto iPhone app now allows users to create their Animoto videos from their iPhone without ever touching their computer. It's like having a highly-paid professional video editor in your pocket."
As with the web version of Animoto, the app uses high-end motion design and music-analyzing technology to create videos from your selected photos and music. The Animoto app is a free download from the iTunes App store. For more information, visit iphone.animoto.com.
Most Recent Comment(s):