Making Calls With magicJack

By
.(JavaScript must be enabled to view this email address)
May 21, 2008
|
Share

Del.icio.us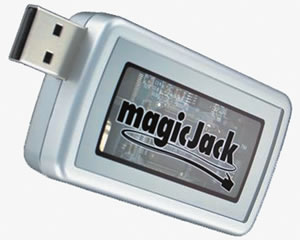 Thanks to my buddy Terence Iwamoto at Mr. Ink Plus, for the last two weeks I've been making phone calls using my computer. The YMax magicJack is a USB device that allows you to make phone calls with a regular analog phone (corded, cordless or headset), your home computer and a high-speed Internet connection.
Installing my magicJack was a breeze. I plugged it into my MacBook Pro, configured the preferences and input my physical address for the included 911 feature. The whole thing was ready to go in less than five minutes. I made the first phone call to my mom to discuss Mother's Day plans. She could-n't tell at all that I was calling from the Internet. I was thoroughly impressed with the sound quality - it sounds the same as a regular land line.
magicJack's features include call-waiting, 411 directory assistance, conference calling, call forwarding and voice-mail. You can forward your number to Canada numbers for free, but for other countries there is a nominal fee. Most importantly, as mentioned above, a 911 feature is included. You can input different physical addresses to the magicJack preferences and select the one you're at while you're using it.
"The secret sauce is our proprietary system-on-a-chip and our millions of lines of software code," says telecommunications veteran and founder of YMax Corp. Daniel Borislow. "It's little, but it surely packs a punch. magicJack is not only for the home, second home and small business, it is also perfect for wherever you travel, including Europe, Canada, Mexico, Asia, South America - anywhere. Users can call anyone in the United States and Canada from any country or to any other magicJack user in the world, and the call is free."
The magicJack is the only device of its kind backed by its own network. There are 42 gateway switches in major metropolitan U.S. cities and interconnection agreements across the country. This Ymax Voice is one of the newest and largest U.S. phone networks, and is one of the only competitive local exchange carrier (CLEC) networks certified in all 50 states.
"As proud as I am of my invention, the magicJack, it takes a back seat to the network we built and all the interconnections set up," Borislow adds. "The network is what took three years to accomplish. It is something no other company has ever done before and it would be very difficult to replicate.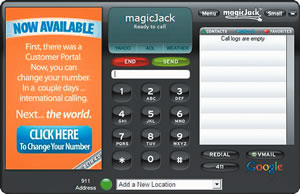 This is the core of YMax.
"Consumers want the same high-quality voice experience they have come to expect from using their traditional home or business phones, but with much lower cost and added mobility," says Patrick Monaghan, a senior analyst with Yankee Group's consumer research group. "A USB telephony device backed by a real phone network takes a much-needed approach to bringing the end-user a level of service they expect."
The magicJack is certified with the Federal Communications Commission and has five patents pending with one approved.
Overall, the magicJack is well worth it, since it's probably the cheapest phone plan in the world and simple to use. For parents, this could be an inexpensive way of rewarding your well-behaved kids with their own phone number without racking up cell phone or long distance charges on your phone bill. It's also perfect for traveling, especially if you frequent foreign countries, or for deployed troops.
There are a few drawbacks. If you use this as a regular phone line, your computer needs to be on all the time and requires a high-speed connection. There are no 808 area codes available yet, but there soon will be. If you do need to change your area code you won't be charged a fee the first time, but each additional change is $10. Also, since there are no 808 area codes now, others calling you will probably have to pay long distance fees (unless they're using a cell phone).
If by chance you've seen the tacky magicJack infomercials late at night, trust me, this product is for real! Buy a magicJack of your own for $47 from Terence at Mr. Ink Plus (670 Auahi St. behind the former CompUSA site; 526-2465). Or, if you can't make it down there, check out www.magicjack.com to purchase online ($39.99 plus shipping; equivalent to the same price as Mr. Ink Plus).
Most Recent Comment(s):