Managing Money With Free Rudder

By
.(JavaScript must be enabled to view this email address)
April 15, 2009
|
Share

Del.icio.us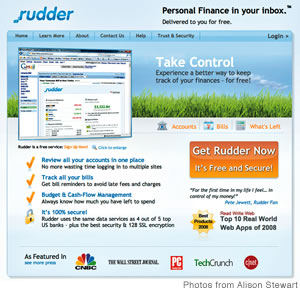 Rudder is a free online money management tool that reminds me of Mint (www.mint.com). It provides automated financial reports and projections combined with intuitive alerts to help you make better decisions.
The initial setup is similar to Mint, but not as streamlined. Rudder asks you to pick your financial institution and username/password. My bank wasn't listed, so that didn't help me much. I imagine if it can find your bank, then your information would be instantly populated. It then identifies your recurring bills and expenses, and you have to enter in your income manually.
Rudder uses a Forward-Focused Budgeting Philosophy, meaning instead of analyzing the past, it assesses your monthly financials to predict your cash flow. The What's Left Budget Calculator knows when you receive your paycheck, bills due, credit card payments and gives you the maximum you can spend. You also can use the Simple Spend meter to measure your discretionary spending and the Intuitive Budgets, Trends and Alerts to identify any problem areas to stay on your desired financial course.
Since I couldn't load my bank account in Rudder, I wasn't able to get any of these to work. But, if you are able to configure your account, you also can receive daily, weekly and monthly e-mails (without having to log into your account).
I see Rudder only providing a general overview of your finances, and it is a small pain to setup. It doesn't actually teach you to manage your money efficiently, it's more of a tool that shows you what you have left in your account.
If Rudder couldn't find my bank, other local Hawaii banks are probably missing from there as well. I was disappointed that Rudder does not have an iPhone app, whereas Mint does.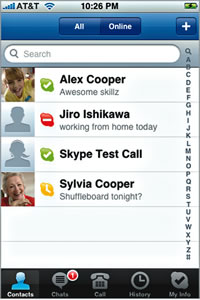 Overall, Rudder is easy to use and good for your full financial picture tracking. Try it out for yourself at www.rudder.com.
Click Chick's iPhone App of the Week: Skype
In my column about a month ago, you may remember the Fring app with which you can make Skype calls. Adding onto that, two weeks ago Skype announced its very own iPhone app that you can use to make Skype calls and do instant messaging.
"Skype software for the iPhone has been the No. 1 request among our users," says Scott Durchslag, Skype's chief operating officer. "We are delighted to deliver on this request and put Skype into the pockets of millions of people around the world who are carrying iPhone and iPod touch devices. Skype for iPhone will open up new ways for more than 400 million Skype users to stay connected and take their Skype conversations with them."
This app includes the core capabilities you Skype users are familiar with: free Skype-to-Skype calls from any Wi-Fi zone to other Skype users; call any phone number for a fee, send/receive instant messages, and seeing your Skype contacts if they're online/available to instant message or talk.
The biggest flaw with this app is not being able to make Skype calls using the iPhone's 3G. Perhaps it's because this capability is seen as competition to your AT&T service. But you can log in to your Skype account using the 3G (or whatever data service is available) and utilize the instant messaging feature, but you can only make the actual Skype calls with Wi-Fi. Find Skype for iPhone app at the iTunes App Store, or for more information, check out: www.skype.com/download/skype/iphone.
Most Recent Comment(s):
For all comments click here.