Mastering A Marvel-ous Game

By
.(JavaScript must be enabled to view this email address)
October 28, 2005
|
Share

Del.icio.us
I've always been a big fan of Marvel characters and remember watching Saturday morning cartoons with The Hulk, Fantastic Four, Spider-Man and others when I was a kid. If you're also a Marvel fan, I would highly recommend playing "Marvel Nemesis: Rise of the Imperfects
."
With this creation by EA Games, you can experience what it feels like to be in the shoes of a super hero by playing a number of characters such as Spider-Man, Wolverine or Iron Man.
The game is a fighter type, but unfortunately not the easiest to master. I picked up the controller and figured it out fairly quickly, but it took at least a good hour to fully learn the controls and acquire a good grasp of the game. You can play it single-player mode on your own, or multi-player on the Xbox
(Xbox Live) and Playstation 2
(with a network adapter card). Single mode pulls you into the storyline, multi mode takes you into head-to-head battles with other opponents online.
As you're playing, the characters seem to move the same way they would in a comic book.
The attacks, movements and powers have an authentic feel to them, which makes it really feel like you're wandering through a comic book. The characters fly all over your screen, swing on webs, throw cars and other large objects at each other, just as you would expect in a comic book. Every time you beat a level, you can choose up to four different characters'paths, which gives you good variations. Once you've exhausted a story path, then you can switch characters. Each character has a good and an evil manifestation, depending on whether or not they were susceptible to alien mind-control technology.
A fun part of the game is the ability to unlock hundreds of fun collectible rewards. This includes playable characters, collectible cards, animated comic books and several short videos.
You know the graphics are top quality when the prestigious behind-the-scenes group that created "Marvel Nemesis" includes Hollywood and comic book industry stars such as renowned illustrator Jae Lee
(Spider-Man, Uncanny Xmen, Captain America) and movie character designer Paul Catling (Spider-Man, The Punisher, Harry Potter and the Chamber of Secrets).
"Marvel Nemesis: Rise of the Imperfects
" is rated T for Teen and is available for the Xbox
, Playstation2
, PSP
, Nintendo GameCube
or Nintendo DS
for $49.99 each at CompUSA or GameStop.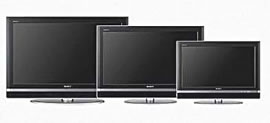 The Sony BRAVIA line is designed for maximum versatility
Sony BRAVIA
: Redefining Television
I went shopping recently for a new television and wanted to make sure I bought a good one that will last awhile, yet look good mounted on the wall in my living room. I wish the BRAVIA
line, one of Sony's latest creations, was available at the time.
Sony recently introduced a new sub-brand for its line of high definition LCD televisions called BRAVIA
(Best Resolution Audio Video Integrated Architecture). What makes it different from a "normal" LCD television is that it has three key advances: a larger color gamut, higher refresh rates and the ability for your television to automatically adjust to ambient light conditions. That's definitely what I need. There are many times when the sun is shining into the living room or the light is just too bright, and I would love to have that function.
The brightness of the BRAVIA
line is possible because of Sony's Wide Color Cold Compact Florescent Light (WCG-CCFL). It displays a color gamut almost 40 percent larger than a conventional CCFL display. This larger gamut allows BRAVIA
televisions to reproduce the colors of real life more faithfully using spectrum phosphors to achieve the deeper reds, vivid greens and cleaner blues - closer to what your eye would normally see.
Sony makes two different types of BRAVIA
, the S-Series and the XBR Group. Both use the seventh generation Sony LCD panel, which is produced from the world's biggest mother glass to efficiently create large high quality panels. Each also has a 1-mega-pixel Patterned Vertically Aligned (PVA) high-definition display (1366 x 768, two segments per sub-pixel) and offers a 178-degree viewing angle, fast response times and an excellent contrast ratio. There's also a freeze function that allows you to freeze one screen while the other continues showing your program.
With its design for maximum versatility, the BRAVIA
line features a comprehensive range of input interfaces, including High-Definition Multimedia Interface (HDMI). HDMI is the first industry supported, uncom-pressed all digital audio/video interface. An unfortunate drawback is that there are no DVI ports.
The BRAVIA
line is definitely a winner, but quite pricey, ranging from about $2,000 to $3,500 at Shirokiya, Pure Digital Hawaii (841-6250), www.sony.com or any other authorized Sony dealer.
.(JavaScript must be enabled to view this email address)
Most Recent Comment(s):