Measuring Your Sleep Patterns

By
.(JavaScript must be enabled to view this email address)
November 19, 2008
|
Share

Del.icio.us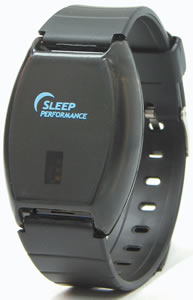 The Sleep Bracelet measures your sleep patterns.
Most of you probably remember the disturbing incident early this year when two go! pilots allegedly fell asleep while flying and overshot Hilo - something I shouldn't think about right now since I'm sitting on a plane as I type this! Thankfully nothing tragic happened that day, but such an occurrence can obviously be dangerous. Although it happened more than a year ago, an accident still fresh in my memory is when the man in Ewa Beach was killed by the 19-year old that fell asleep at the wheel and veered off the road. That could have easily been any of us as a pedestrian, or a driver. These are just extreme examples of how sleep deprivation/fatigue can affect your mental effectiveness.
Senior scientist John Caldwell, Ph.D., at local company Archioetics, created the SleepBand program, which uses the Sleep Bracelet to measure your sleep patterns.
"With the SleepBand, it's possible to get a completely accurate view of sleep habits," says Caldwell. "Not only that, but the SleepBand program indicates whether the amount and quality of sleep being obtained is sufficient from a performance and safety standpoint. One of the items on the sleep report is an analysis of 'fatigue risk' or the chances that certain sleep patterns might lead to an accident. This is valuable information for almost everyone."
Thanks to Caldwell and his team, I took the opportunity to have an assessment done on me. I wore around the Sleep Bracelet for seven days, minus my exercise periods and showers. I was really curious as to what my results would be
since I feel I don't sleep enough. The band looks similar to a watch so I didn't really notice it much.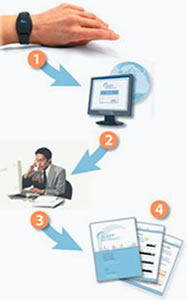 A little background behind the band. It's the first scientifically validated tool for fatigue assessment and risk identification. Powered by a little 3V lithium battery, it contains a three-dimensional microelectro-mechanical system accelerometer that the motion data is collected with. The accelerometer measures the wearer's changes in motion - the method is called actigraphy.
According to the analysis, I'm not as bad as I thought. The first section is the Sleep Analysis. It shows charts with times and the activity from each day I wore the bracelet, pretty straightforward.
The second portion of the report is the Sleep Statistics (Distribution in Effectiveness Ranges), and looks at Mean Daily Sleep (total hours per day), Mean Wake Episode (mean length of episode during sleep periods), Wake Episodes (number of wake episodes during sleep), Activity Index (percent of time with activity during sleep) and Sleep Efficiency. All of mine fell within the ideal range except for the Activity Index - I was at 14.2 percent (normal is between 20 - 50 percent).
The third section is the Mental Fatigue Analysis. It's a graph that shows the likely mental fatigue/percent of mental effectiveness during the time I wore the Sleep Bracelet. It's broken into three categories - Normal (green), Reduced (orange) and High Risk (red). Thankfully I didn't fall into the red at all, but there were a few times I slipped into the Reduced orange part - not surprisingly the lowest was on a Monday. Overall my average increased accident risk is 6.9 percent.
It's fair to call it common sense, but remember that inadequate rest impairs your ability to think, handle stress, problem solve and even cause hallucinations. Being fatigued also makes your body react as if you're intoxicated with alcohol. Keep all that in mind next time you need to drive home, or operate any machinery.
If you're curious about your sleep habits and how to fine-tune your day-to-day performance, the approximate price of a SleepBand assessment is $400. Anyone interested in the opportunity for an analysis should visit www.sleepperformance.com/web. In addition, for companies requiring multiple assessments, a reasonable discount is available.
Most Recent Comment(s):