Merrie Monarch Festival On IPTV

By
.(JavaScript must be enabled to view this email address)
February 18, 2009
|
Share

Del.icio.us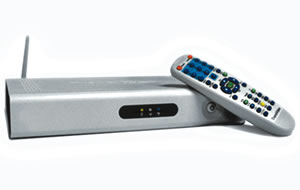 If you grew up here or have lived in Hawaii for a while, I'm sure you're familiar with the popular Merrie Monarch Festival. This year marks 46 years, and it will run April 12-18.
This time around there's a new way to watch it - Hawaii IPTV will offer the first Internet Protocol TV broadcast of this prestigious Hawaiian event.
This will be the first time the Merrie Monarch can be viewed live outside of Hawaii. Typically, those of us who live here can watch it live on KITV, but for folks who live elsewhere, it's a little more difficult.
"It's an honor to be able to have the Merrie Monarch Festival as a part of Hawaii IPTV," says Kimberly Dey, vice president of Hawaii IPTV. "This event showcases Hawaii at its finest, and is so rich in history and culture. I'm thrilled to be given the opportunity to share it with our customers around the world."
The Hawaii IPTV box connects directly to your high-speed Internet connection, and the setup process is easy - basically plug-and-play. Hawaii IPTV is all about Hawaii. The lineup features live news broadcasts from Hawaii, including the most popular weekly Hawaii TV shows, movies, latest Hawaiian music videos, historical films and documentaries pertaining to Hawaii.
You can hook up the box directly to your TV, and it does not require a computer. This box is really meant for the Hawaii folks living away from home - the service will not work here. You have to be away from Hawaii for it to work properly. This makes a great gift for your overseas loved ones. Now they, too, can watch the Merrie Monarch and more!
IPTV costs $21.50 per month with a one-year service agreement. Note there are one-time charges for the setup ($125) and activation ($25). You also can opt to purchase a full year of service for $180. Another alternative is the web player. The monthly and annual prices are the same, and there is a 30-day money-back guarantee on the box. For more information, check out http://tvfromhawaii.com.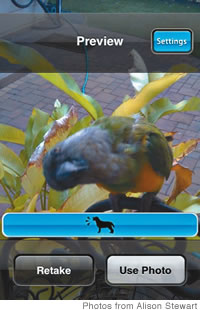 Click Chick's iPhone App of the Week: Bow Cam
The Japanese company APPLIYA Inc. recently launched Meow Cam and Bow Cam, the iPhone apps that make taking the perfect photo easier by generating sounds. I downloaded the Bow Cam and kind of turned it into my own "Bird Cam" to take pictures of my bouncy parrot. Sometimes it's difficult to grab his attention for more than two seconds at a time, so it's challenging to take a perfect picture of him. To capture his attention and look at my iPhone, I used the Bow Cam to emit various barks and other noises (i.e. cans clinking or a bell).
This app is meant to assist you in taking your pet's picture by grabbing its attention with the sounds. The app's description noises worked just fine with my bird - he'll look up at anything.
Note that sound won't come out of the speaker when the headphones are plugged in. As soon as you snap the picture, it gives you an easy-to-look-at preview screen so you can decide whether or not you want to keep the picture. Using this to take everyday pictures seems quicker than using the iPhone's camera directly. Since it's made in Japan, the app is in Japanese and English. Meow Cam and Bow Cam are both 99-cent apps from the iTunes Store.
Most Recent Comment(s):