Microsoft Office 2008 For Mac

By
.(JavaScript must be enabled to view this email address)
March 12, 2008
|
Share

Del.icio.us
For those of you who work in an office/business environment, chances are you use Microsoft Office in some way, shape or form. I just went through the release and transition to Office 2007 for the PC platform at work, and after a few bumps in the road causing delays, Microsoft Office for Mac 2008 is now here.
Released in January, this is the first universal version of Office for Mac that runs natively on both the old-school PowerPC and Intel-based Macs. It is also the latest update since about four years ago with Office 2004. Writing this column and a flier I need to do are my very first projects on Office 2008.
"We built Office 2008 with the unifying goal of making it easier for Mac users to access the tools they need to get the job done - whether it's creating a brochure for their business, managing their family schedule and finances, or finalizing a presentation to share between Macs and PCs," said Craig Eisler, general manager of the Mac Business Unit at Microsoft. "And, of course, Office 2008 for Mac will provide the document fidelity with the 2007 Microsoft Office system that our users need to stay connected with their friends and co-workers on PCs."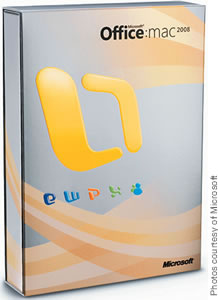 Installing it was painless. It automatically overwrote my old Office 2004 files and took about 15 minutes. But before you even think about putting this on your Mac, make sure you're running a minimum of OS X version 10.4.9, and have at least 1.5GB of space on your hard drive, and 521 MB of RAM. There are various versions you can buy, but for this, I tried out the regular full Office 2008 for Mac. Here's a quick breakdown of what I thought of each program:
* Word: The first thing I noticed was the refreshing look. The menus sort of pop out at you with Document Elements, and the Formatting Palette seems to be a bit bigger (and easier to look at) than the 2004 version. I've been so tired of the old templates, so these new ones included are nice to look at. As far as general functionality goes, I don't see any dramatic differences, but students will love the new reference tools, and people who snail mail often will appreciate the improved Mail Merge. The Publishing Layout View is especially useful when you're working on a newsletter or, in my case, a flier.
* Excel: The things that stick out for me in Excel are the Formula Builder, Elements Gallery/Ledger Sheets and the nice charts. The Formula Builder walks you through the steps to make a perfect formula, and will autofill where it sees fit. The Ledger allows you to enter and track data easily, and those charts created with OfficeArt graphics look better than previous charts.
* PowerPoint: I enjoy the integration with iPhoto, and you can put the presentation on your iPod/iPhone by saving it as a PNG or JPEG file and additionally have full functionality control of the presentation with your Apple Remote.
* Entourage: I don't usually use Entourage, but for my test, I set-up my Gmail account with no issues. From what I hear, the calendar and tracking daily activities are much improved.
* Messenger For Mac: This is a useful tool if you instant message frequently. You need to have a Microsoft Live account setup before you start, then you can log into multiple IM accounts simultaneously (i.e. Yahoo!, AIM or MSN).
Overall, I'm satisfied with the Office 2008 release, especially pertinent in a business or home office environment. But the biggest drawback for most people is the price. The cheapest option is $149.95 for the Home and Student Edition (formerly Student and Teacher) with three licenses, but you won't have any Exchange or Automator support. Full Office is $399.95 (or $299.95 for the upgrade if you already have an older Office), and the Mac Special Media Edition is $499.95 ($299.95 upgrade).
You can find Office 2008 just about anywhere, but I think the most convenient place to buy it is Amazon.com because of the free shipping.
Most Recent Comment(s):