Microsoft's Microsoft's

By
.(JavaScript must be enabled to view this email address)
October 25, 2006
|
Share

Del.icio.us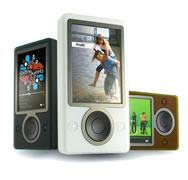 Zune
If you've been keeping up with my columns or know me fairly well, you are very much aware that I am the biggest iPod hog around. I have every type there is. From the shuffle to the nano to the regular iPod - I have them all. What do I do with them? Well, everything. On top of that, after Apple just came out with its new line of iPods about a month ago, I "had" to go and buy myself the 80GB so I could load my favorite TV shows movies and, of course, music on it. My point is that nothing can separate me from my beloved iPods.
With that in mind, I've been hearing about a Microsoft competitor to the iPod, for quite some time now, and it's finally been officially announced as the Zune. I haven't been able to wrap my grubby little hands around one yet, but I'll tell you what I know so far ...
The Zune is a 30GB digital media player that is equipped with wireless functionality for Zuneto-Zune sharing of music, pictures and home recordings. It was designed by Microsoft and manufactured by Toshiba. Its three-inch LCD video screen works in a portrait or landscape mode for best viewing of your pictures and videos. As for physical appearance, it will be available in your color choice of black, brown or white.
The Zune-to-Zune sharing brings a new level to digital media players since it will allow you to spontaneously share selected full-length sample tracks of your favorite songs, homemade recordings, playlists or pictures with your friends wirelessly, directly from your Zune to your friend's Zune (using ad-hoc Wi-Fi for local communication to talk to other Zunes). The 30GB capacity built-in hard drive will give you the ability to store up to 7,500 songs, 25,000 pictures or 100 hours of video. In addition, as the Zune evolves, yours will evolve, too, when you download the latest updates through the Zune software on your PC.
Your Zune will come preloaded with an array of songs, music videos and short films. It will have the capability to playback MP3, unprotected AAC and WMA audio files. I haven't heard anything if it will play other formats such as lossless, WAV or Audible will work as well, however, music purchased from the Zune Marketplace (similar to iTunes) will be 192 Kbps and will not playback on another device. Additionally, the Zune will support WMV, H.264 and MPEG-4 formats. It will probably be about $0.99 per download (or 79 Microsoft point), as iTunes is, but If you don't want to pay per download, $14.99 a month will grant you unlimited access to Zune Market-place's library.
What really sets the Zune apart from the iPod is the fact that you can listen to the radio off it. The FM tuner allows you to tune into local FM radio stations or customized programming when you're at the gym to watch television there. Advanced tuning will allow you to see the name of the song that you're currently playing to selected frequencies.
Accessories available will be the Zune Car Pack, Zune Home A/V Pack and the Zune Travel Pack. The Car Pack will include everything you need to hit the road - an FM transmitter so you can listen to it over the radio and a Zune Car Charger ($79.99). The Home A/V Pack ($99.99) is a set of five products that integrates your Zune with your big-screen TV and your favorite speakers - A/V output cable, dock, wireless remote w/lithium battery, sync cable and AC adapter. The Zune Travel Pack ($99.99) includes a dual connect remote, earphones, gear bag, sync cable and an AC adapter. These components can also be sold separately (prices range from $19.99 to $69.99).
I'm not sure if this Zune will be enough to pry me away from my iPods, but to each his own. You can check it out for yourself after Nov. 14. So far, it looks like Best Buy (www.bestbuy.com) or OfficeMax (www.officemax.com) will have The Zune. Stay tuned to www.microsoft.com for more information.
Most Recent Comment(s):