Microsoft's New Windows Campaign

By
.(JavaScript must be enabled to view this email address)
September 24, 2008
|
Share

Del.icio.us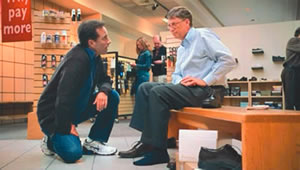 Have you seen that TV commercial with Jerry Seinfeld and Bill Gates in the shoe store? When I first saw it, I just thought to myself, "Why?" The answer: "Nothing," according to Microsoft, in the classic Seinfeld sense of the word.
It turns out this is the first sign of an ambitious effort launched earlier this month by Microsoft's Windows business to reconnect with consumers around the globe. At the moment, there are three of these TV spots on the air with more to come.
As part of a $300 million marketing campaign, these initial ads are the first in a creative effort designed to spark conversations about the Windows brand - conversations that will evolve as the campaign progresses.
If anything, I think people are confused by these ads, and my guess is Microsoft is doing these to combat Apple's Mac/PC campaign. With Apple's ads, you clearly see the Apple branding, yet these Microsoft ads seem to be pointless and random with Seinfeld humor thrown in.
"Windows is entering a new chapter in our history," says Bill Veghte, senior vice president, Online Services & Windows Business Group. "We're renewing our commitment to consumers and working with our partners to deliver quality and value on the PC, across devices and across the Web."
This new campaign highlights how Windows has become a part of life for 1 billion people around the world. It illustrates how Windows integrates consumer experiences across PCs, online and on cell phones through Windows Vista, Windows Live and Windows Mobile. Microsoft is working with retail partners and PC manufacturers to roll out Windows-branded sales environments and store-within-astore concepts. The major retailers are Circuit City and Best Buy, and PC manufacturers include HP, Dell, Sony and Lenovo.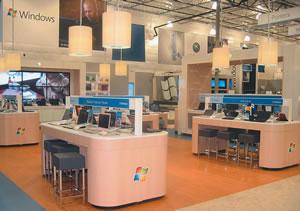 "When you think of more than 1 billion people using Windows across the globe, each person with a unique set of circumstances, and then factor in three Windows platforms and what they can do, it's hard to even comprehend the number of unique scenarios Windows can potentially address," says Brad Brooks, corporate vice president for Windows consumer product marketing. "So how can Microsoft support this ecosystem? How can we help people understand the potential they have to be creative and productive with the platform?"
According to Brooks, Microsoft's historic relationship with consumers has become insufficient in this new world, a situation that has led the company to fundamentally rebuild the customer experience. In response to this need, Microsoft has undergone extensive efforts to understand consumer behavior and thinking around PCs and Windows. The research ranges from day-to-day use and how the company supports customers over the Web and phone, to the PC-buying experience.
As a result of all this, we'll start seeing a wave of PCs that benefit from these changes later this fall. These
PCs will be featured at Windows.com, which also is undergoing a transformation. We'll see more consumer-oriented help and how-to videos designed to help build affinity for Windows and awareness of underutilized features and capabilities.
So next time you see one of those Seinfeld/Gates commercials come on, you'll sort of know why they're there.
Most Recent Comment(s):