Mobile Gamer Guys roll into your party

By
.(JavaScript must be enabled to view this email address)
January 23, 2009
|
Share

Del.icio.us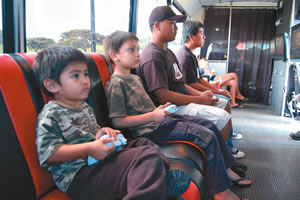 Pono, Noa, Zavier and Zach in the bus. Photos by Alison Stewart
Last weekend I had the pleasure of checking out the Mobile Gamer Guys' (MGG) buses they had set up at the Great Hawaiian Dodgeball Challenge. How fun - playing your favorite video games in a cool, air-conditioned bus while you're at a party or gathering with your friends and family!
This whole concept was the brainchild of Kalani Miller, Chris Gongora, Shawn Haruno and Caesar Paet (not pictured).
The guys have equipped the inside of each bus with eight Xbox 360 stations (with wall-mounted 19-inch TVs), and on the outside is a 42-inch TV with a Nintendo Wii (with an option to watch your favorite pro game on ESPN). At your party, all the games and hardware are provided, including favorites Halo 3, Call of Duty 5: World At War or Guitar Hero, or classics such as Pac-Man.There'salways an MGG guy around to run and monitor your games so you don't have to worry if you don't know what you're doing.
So far there are two buses here on Oahu, and when you book them together you can play one bus against the other (up to eight against eight players) - perfect for game tournaments. I thought the buses would have been connected to each other wirelessly, but there's a CAT-5 cable hooking them together to create the local area network (LAN). Each bus is self-contained with electricity (via generators) and air-conditioning. No worries, it won't use up your power, but if you're far away (25-plus miles away from 96817), you'll pay a small fuel surcharge.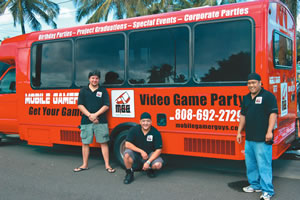 Kalani Miller, Shawn Haruno and Chris Gongora. Photos by Alison Stewart
According to Miller, MGG is planning to expand in the near future with two buses on both Maui and in Kona, and to purchase more buses for Oahu. In addition, MGG is gearing up to add more features such as Internet service (Wi-Fi hotspot), expanded TV service, gift bags and even catering. So far MGG does-n't have PlayStation 3 capability, but perhaps in the future, guys (hint, hint) ...
Prices vary depending on the day of the week, how many hours you need it and the number of buses you use. As long as you have space for the bus(es) to park, you can turn just about any party into a video game arcade. Visit www.mobilegamerguys.com for more information and to view the calendar for available dates, or call 692-2729.

Click Chick's App of the Week: Mint.com
I already use and love the online application Mint.com to track most of my accounts on my computer, and since they came out with the mobile application last month, I've been able to follow the same information from my iPhone. If you already have a Mint.com setup, all you need to do is download the app to your iPhone/iPod touch and login. If you don't have an account created yet, it's best to go online first from your computer and enter in your accounts.

After you have that taken care of, there is no effort required on your part. You don't need to enter in every single transaction - the app syncs up your bank accounts, credit cards, investments and loan accounts and gives you an at-a-glance comparison. You can see up-to-the-minute account balances, all recent transactions, cash flow, investment performance and alerts on your bills due, unusually large expenses and deposits.
Since its mobile launch, Mint.com has become the most popular finance application on iTunes, even ranking above the apps produced by PayPal, Bank of America and Chase. For your security concerns, the app's password is protected, and you can disable the iPhone access at any time from Mint.com if your phone is lost or stolen.
Most Recent Comment(s):