Monitoring Home Energy Usage

By
.(JavaScript must be enabled to view this email address)
December 30, 2009
|
Share

Del.icio.us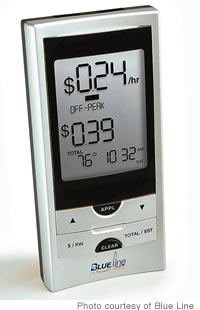 I've always wondered how much energy turning off a light switch really shaves off my power bill.
A good way to gauge what your home is consuming is with Blue Line's PowerCost Monitor. It informs you in real time exactly how much electricity your household is using. It came out earlier this year, and I wouldn't be surprised if it was a hot seller for Christmas. My husband and I bought it as an early Christmas present for our house.
To set yourself up, first you need to clamp a wireless sensor to your home's power meter (powered by two AA batteries). This sensor then transmits information to a portable wireless receiver that you keep with you in the house (also powered by two AA batteries). The receiver displays your energy usage on an easy-to-read LCD screen. When you turn something on or off, it takes about 30 seconds for it to register on your receiver. You can program various electricity rates on it for extreme accuracy, including single (flat) rates, tiered rates and time-based rates.
We mounted our receiver on the kitchen wall and the kilowatt hours (kWh) usage are easy to read in big numbers at the top. The first night it was installed we had fun turning on and off different lights and devices in the house to see what sucked up the most power. The very first thing we tried out was the Christmas tree. Surprisingly this was one of the most energy-consuming lights in the house, using 0.5 kWh. In comparison, the kitchen light and the bedroom both use 0.1 kWh.
Additionally, I noticed my house's baseline averages at about 1.0 kWh during the day, and 2.0 kWh at night with the basic lights running (kitchen, living room and the outside patio). When the central air conditioner kicks in, it then shoots up to 5.1 kWh (day) and 6.1 kWh (night), but since it's been cooler these days, it hasn't kicked on that often. To my surprise, the washer (0.8 kWh) uses more power than the dryer (0.6 kWh) - neither are Energy Star since they're a little older.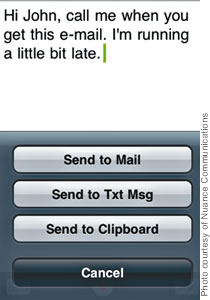 The bottom line is the PowerCost Monitor is a cheap, effective and fun way to help you know what your home is doing. Last week it was even named one of EcoHome Magazine's Top 20 Reader-Requested Green Products for 2009.
You can find it at Smarthome.com for $99.93 (free shipping on orders more than $200) or Amazon.com for $109.99 (free shipping).

Click Chick's iPhone App of the Week: Dragon Dictation
Nuance Communications' Dragon Dictation app allows you to speak e-mails and text messages to your iPhone instead of typing them. When you need to type something, all you do is open the app and it takes you to a screen that says "Tap here and dictate." Here you tap the button and start talking, hit "Done," your voice is processed for a few seconds, then you see your text appear.
After this, you have the option to e-mail the text, send it as a text message or copy it to your clipboard. If you send the text to your clipboard, you can conveniently use it to paste it into just about anything, including your Facebook or Twitter updates. I found the recognition to be fairly accurate with short phrases, and if there are any wrong words, they're easy to correct by replacing them with the iPhone's word suggestions or your own words. With the longer paragraphs, it might need a little work.
The Dragon Dictation app is available free for a limited time from the iTunes App Store. Grab it quick before they put a price on it!
Most Recent Comment(s):